A GlassDoor review by a former Patreon employee is going viral on TikTok following news Patreon abruptly fired their entire security team. The ex-employee alleged that the company was forcing trust and safety team members to overlook pedophilic content on the platform and protect "minor-attracted people."
On September 8, Emily Metcalfe, a now-former security and privacy engineer at Patreon, posted to LinkedIn that the entire Patreon security team had been abruptly let go.
"So, for better or for worse, I and the rest of the Patreon Security Team are no longer with the company," Metcalfe wrote, soliciting leads on new roles within the industry. Metcalfe's post went viral after a screenshot was shared to Twitter by information security lawyer Whitney Merrill.
While people were initially skeptical at the news, Patreon confirmed the news the next day in a statement issued to CyberScoop, claiming they had decided to cut their internal security team in favor of third-party solutions. "The changes made this week will have no impact on our ability to continue providing a secure and safe platform for our creators and patrons," Patreon stated.
But following the abrupt decision, an ex-employee statement from August began to circulate and raise alarm bells amongst social media users.
On August 16, a former trust and safety specialist at Patreon took to job review platform GlassDoor to allege that Patreon had demonstrated negligence with regards to child safeguarding in a review simply titled "Illegal."
The former employee, who worked at Patreon for over one year, claimed platform management had been actively encouraging safety staff to overlook pedophilic content unless ordered to do otherwise by law enforcement.
"We are being told specifically by management and executives NOT to take down content that is illegal or was reported as sexual in nature involving minors unless the police make contact with legal or we have an order by a court," the ex-employee wrote. "When others try to inform management that there's an amalgamation of accounts that are selling lewd photographs of what appear to be children, all concerns are dismissed."
Disturbingly, the review goes on to note that Patreon higher ups are "advocating for customers who are minor-attracted persons (or MAPs)," and concludes by saying: "This is no way to run a company, this is no way to allow children to be exploited on our platform like this."
Under 'advice to management,' the ex-employee writes: "Have federal law enforcement investigate the company because there's no way what we're doing is legal."
The review first came to widespread attention after being posted to TikTok by Ben Hughes, who slammed Patreon for its lack of child safeguarding measures. Hughes' video quickly wracked up over 160,000 views and 28,000 likes.
But another TikToker's experience with Patreon is now at the forefront of the discussion, as she claims Patreon had done precisely what the former employee alleged, and ignored her reports of pedophilic content.
Parenting lifestyle and child safeguarding commentator Sarah Adams, known on the app as mom.uncharted, made a video in February of this year discussing her experience attempting to inform Patreon about potentially illegal content.
Adams had first been alerted to an Instagram account featuring sexualized photos of what she says appeared to be a young girl. Adams quickly found the account also had a linked Patreon with over 2,000 donors.
In her original video, posted on February 16, Adams said the photos had given her "human trafficking vibes," and she attempted to rally her more than 150,000 followers to have Patreon remove the account.
On February 22, Adams reached out to Patreon again after no action had been taken on the page.
The next day, she received a message from Patreon claiming that the creator of the page was verified as being over the age of 18 and there was no violation found. Adams expressed skepticism at the time, reading details on the Patreon age verification process, which at the time did not require valid government-issued ID.
In June, Adams announced Instagram had suspended the account, but it wasn't until July or August that Patreon finally removed the content on their platform.
Speaking to Reduxx, Adams says the account has already popped back up on Instagram under a different username. Providing the link to Reduxx for review, the Instagram appears to be a collection of "soft-core" pornography featuring girls who seem to be underage. Additional tagged pages within the photos lead to similar accounts, one with even younger-looking girls.
Adams says that, when it was active, the Patreon had locked sections with photos available only to those subscribed donors.
"My assumption was that if [that] is what was displayed on the Instagram account, then the Patreon must be worse."
Adams, who educates her followers on ways to protect children in the digital age, says child safeguarding by social media platforms has been lacking across the board. While this was the only example she has personally witnessed on Patreon, she notes that other TikTokers have been exposing similar disturbing incidents they've come across.
"This type of content is found on all social media platforms and there does not seem to be an urgency in removing it," Adams says.
"I do not believe any platform is doing enough to protect children or monitor for [child sexual abuse] material. My assumption is that the exploitation of children adds to the bottom line of these companies so they are not in a hurry to implement change despite stating the safety of children is a top priority for them."
On the recent news of the Patreon safety team being let go, Adams calls it a "surprising and unorthodox move" for a large company.
"Given the nature of the role, there could be a variety of reasons the team was let go. But I can't lie, after that GlassDoor review, one can't help but speculate."
The TikToker also offers a recommendation for users who might become aware of pedophilic or exploitative content while using social media.
"First, report it on the platform. Second, report it to The National Center for Missing and Exploited Children." Adams also suggests copying links and bringing them to CyperTip.ca for Canadian residents.
Through the controversy, some are pointing out Patreon's selectivity in what content they choose to action on.
The platform has been notorious for suspending creators who express views on political subjects that don't align with the mainstream.
Earlier this year, YouTuber Sydney Watson was suspended from Patreon for "hate speech." While Patreon did not explicitly state what Watson had done that fell under that policy, they did confirm it hadn't been anything she said on their platform, and had been from activity of hers they had been monitoring elsewhere on the internet.
In 2021, Kellie-Jay Keen, a popular feminist activist from the United Kingdom, was also banned from Patreon. Like Watson, Keen was told she had violated "hate speech" policies, though Patreon never specified what she had done wrong.
Get The L Out UK, a grassroots campaign group which advocates for the rights of lesbians, was also recently banned from Patreon.
Despite the suspensions of political commentators on all sides of the political spectrum, another content creator, a YouTuber and "QTPOC" comic book artist who goes by the name Banjees, has posted content on Patreon coming out as a "minor-attracted person" with no apparent resistance from the platform.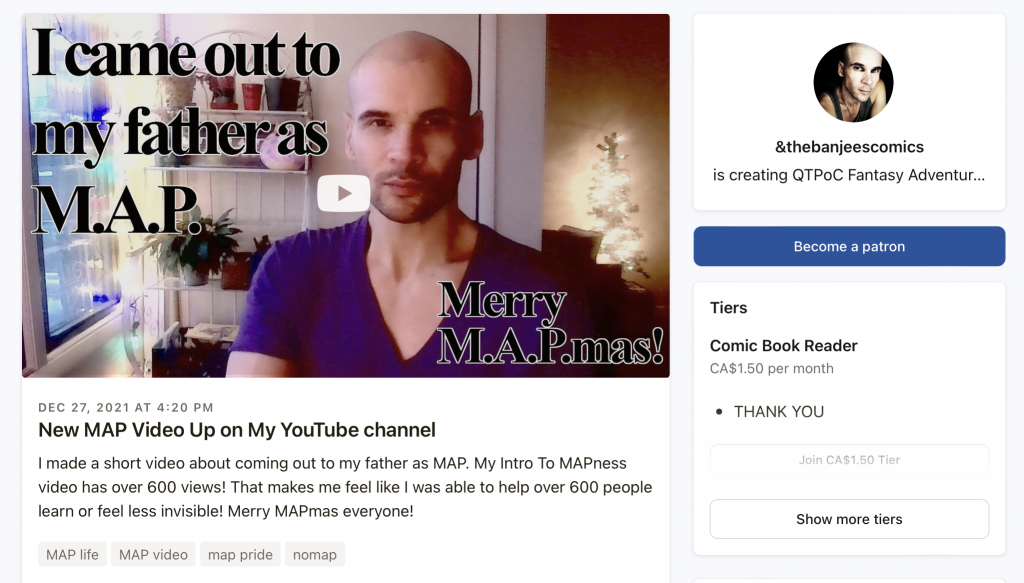 Reduxx reached out to Patreon for comment on the allegations made by the former employee on GlassDoor, and was referred to a blog post made today in which they attempted to address the comments.
In the post, Patreon claims the statement made on GlassDoor was "unequivocally false" and labels it "disinformation" and a "conspiracy." The platform goes on to state that there is no connection between any information shared in the GlassDoor review and the mass termination of the security team.
While the post also asserts that Patreon "has zero tolerance for the sexualization of children or teenagers," it does not address its extreme delay in action on the account reported by Sarah Adams in February — one it initially defended and left active.
The term "minor-attracted person" was first coined by pro-pedophilia lobbying group B4U-ACT, which was founded in 2003 by convicted child rapist Michael Melsheimer. Melsheimer explicitly stated that the purpose of the organization was to normalize pedophilia where the National Association of Man-Boy Love had failed to do so.
Around the time of the organization's creation, Melsheimer advised his fellow pedophiles on pederast forum BoyChat that his new approach for normalizing pedophilia would be focused around garnering public sympathy by deceptively claiming that the humanization of pedophiles would lead to a reduction in child sexual abuse.
Today, B4U-Act had worked with multiple University researchers on the subject of destigmatizing pedophilia, and its highly-promoted term of "minor-attracted person" has gained broad usage, primarily amongst academics.
Earlier this year, a controversial PhD researcher was hired on at a national child safeguarding center just months after being fired for advocating for the rights of "minor-attracted people."
On May 12, the Moore Center for the Prevention of Child Sexual Abuse announced that Allyn Walker would be joining the Center as a postdoctoral fellow. Walker was an assistant professor of sociology and criminal justice at Old Dominion University in Norfolk, Virginia until she came under fire in late 2021 after releasing a book titled "A Long, Dark Shadow: Minor-Attracted People and Their Pursuit of Dignity."
---
Reduxx is a newly-launched independent source of pro-woman, pro-child safeguarding news and commentary. We're 100% reader-funded! Support our mission by joining our Patreon, or consider making a one-time donation.