A prominent trans rights and HIV activist was arrested in New York City this month after allegedly attempting to meet a 14-year-old for sexual abuse.
Lailani Muniz, 39, was caught in a predator sting conducted conducted by NY Creeps Spotlight, a non-profit child safeguarding organization seeking to expose adults who wish to abuse children.
Muniz is a well-known trans rights and HIV activist in the city, and has been regularly featured in LGBT and news media. In December of 2021, Muniz was profiled by EDGE Network, an online gay news outlet, which promoted his work with the HIV Planning Board for the State of New York. Last year, Muniz was interviewed in a VICE documentary on HIV/AIDS.
Muniz, who is HIV positive, was a spokesperson with Amida Care, a New York nonprofit health insurance organization which states its goal is to serve "people living with HIV/AIDS; people who are experiencing homelessness … and people of transgender experience…" Muniz was also a member of the 'HIV Stops With Me' campaign.
His footprint in community social organizations is extensive, and in addition to his advocacy on HIV-related issues, Muniz was well-known for his trans rights activism.
He was the Chief Operations Officer for the New York Transgender Bodybuilding Federation (NYTBF), one of the first trans-focused sporting companies of its kind. According to Muniz's profile on the NYTBF official site, he also worked as a Trauma Informed Care Specialist at the Damian Family Care Center, and had volunteered with both CK Life and Princess Janae Place & Destination Tomorrow where he was "aiding in gender affirming surgeries."
Earlier this year, he was honored by Bronx Borough President Vanessa Gibson at an LGBT Pride Flag Raising Ceremony at the Bronx County Courthouse. Gibson presented Muniz with a certificate of merit.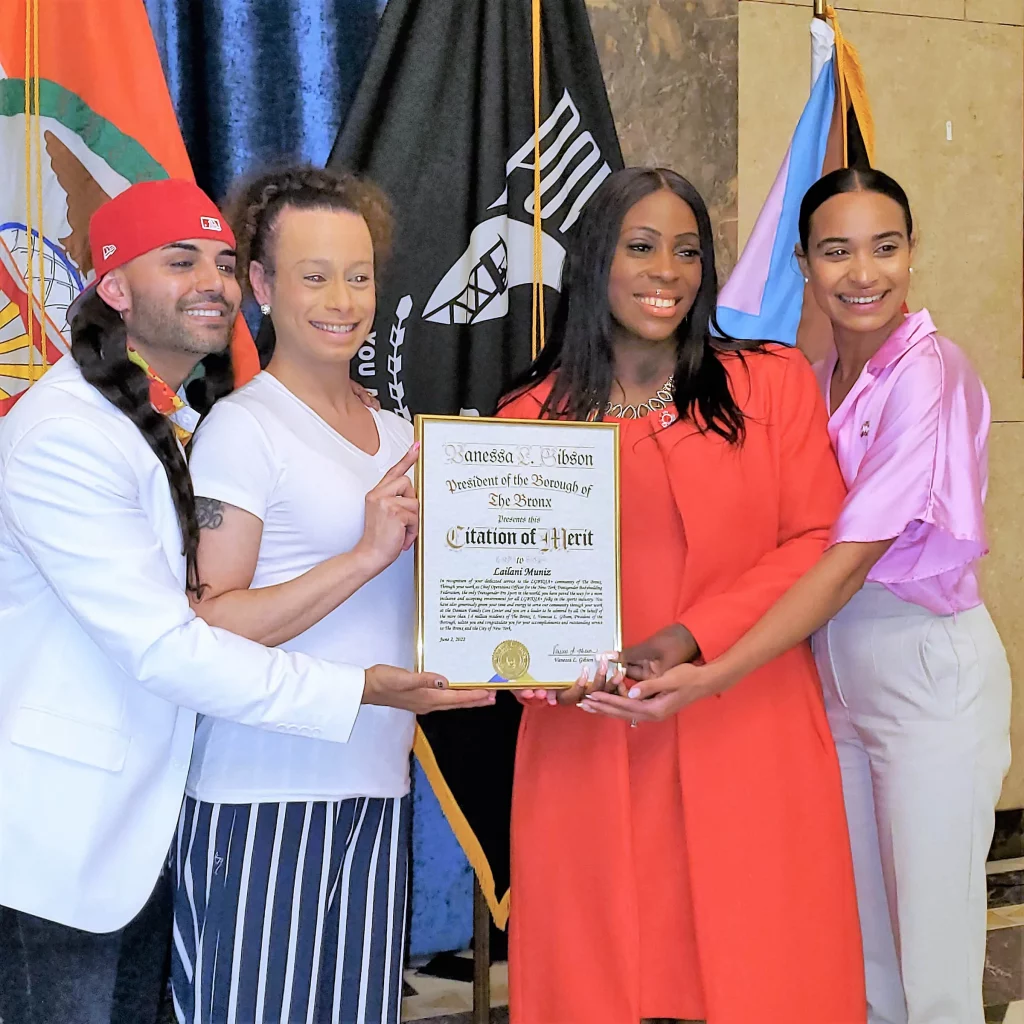 But on October 20, Muniz was arrested after being caught in NY Creeps Spotlight's sting. The predator hunters with the Spotlight had established a profile on gay dating app Grindr advertising to be a 14-year-old child named "Josh."
Muniz contacted "Josh's" profile, and engaged in sexual conversations even after acknowledging the teen's age. In screenshots of the Grindr conversations posted to NY Creeps Spotlight's Instagram, Muniz texts "Josh" a message expressing a joking hesitancy.
"I can't front, I am nervous … I watch too much TV [because] I know you're young, it reminds me of that show To Catch a Predator where they set people up attracted to minors."
In another screenshot, Muniz sends "Josh" a photo of himself donning what appears to be an erection.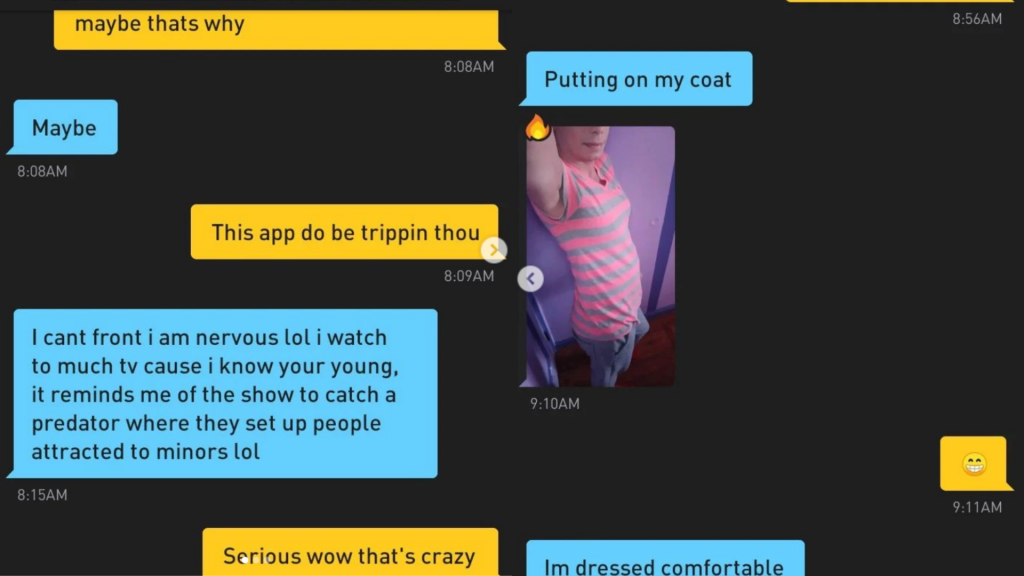 According to Bronx Times, Muniz eventually arranged to meet "Josh" at an apartment building in Bedford Park on October 20, and had reportedly encouraged "Josh" to bring a condom. Police arrested Muniz at after being alerted to his location by NY Creeps Spotlight.
NY Creeps Spotlight uploaded a video of their sting to YouTube on October 27, featuring 20 minutes of engagement with Muniz.
In the video, NY Creeps Spotlight asks Muniz why he arrived to the meet-up location, and advises him he is "Joshua." Muniz initially attempts to deny everything NY Creeps Spotlight is saying about the meet-up's intended purpose, stating he told "Josh" he was not going to have sex with him due to his age. The predator hunter rapidly refutes the claim by reminding Muniz he has the Grindr chat logs.
After identifying him by his title as a transgender activist, Muniz attempts to deny he is a spokesperson for transgender people, and rejects the assertion that he had done anything illegal. He begins to walk away, and is pursued by NY Creeps Spotlight. When the police are finally called, Muniz begins to pick up his pace significantly, making a clear effort to get away from the predator hunter.
The video concludes with NYPD arriving, and NY Creeps Spotlight showing them the chat logs. Muniz is arrested on the spot.
Muniz is facing four charges including attempted sexual abuse, misconduct and endangerment of minor and was released on his own recognizance. His court date is reportedly set for December 2.
Muniz is not the first prominent transgender activist arrested this year on charges related to child sexual abuse.
In May, Reduxx reported that a migrant trans activist whose harrowing story of gender identity discrimination was featured in The New York Times was facing over one dozen felony charges related to the sexual abuse and extortion of a teenage boy.
Carlos Arturo Aparicio Hernandez, 36, was charged with aggravated sexual extortion and six counts of forcible sodomy as first-degree felonies, and three counts of forcible sexual abuse, enticing a minor, and five counts of sexual exploitation of a minor as second-degree felonies.
Hernandez is still in custody in Salt Lake County Prison, and is being recorded as a "female" inmate.
---
Reduxx is a newly-launched independent source of pro-woman, pro-child safeguarding news and commentary. We're 100% reader-funded! Support our mission by joining our Patreon, or consider making a one-time donation.