A sadistic male convict who admitted to killing a prostituted woman to satisfy a "blood fetish" now identifies as transgender and has been transferred to Edna Mahan Women's Correctional Facility.
Perry Cerf was arrested for the brutal rape and murder of 47-year-old Ecuadorian immigrant Flor Andrade in 2002. Cerf, who now goes by "Michelle Hel-loki Angelina," was found wearing his victim's clothes and utilizing her identification with his photo superimposed over hers.
He had been stopped for speeding while driving her car in Demearst, New Jersey, and further investigation by police led them to the body of Andrade, whose naked and bound body had been dumped in a nearby ravine.

Cerf was charged with murder, felony murder, robbery, aggravated sexual assault, possessing a knife, providing false information to police, and various motor vehicle offenses.
While awaiting trial, Cerf penned a letter to The New York Daily News confessing to the crime and boasted about drinking the woman's blood.
"The truth about my case?" he wrote. "Yeah, I killed her. I punched and kicked her to death, crushing her skull in the process. One of the kicks landed in such a way that it broke her neck and all of a sudden her head was on backward."
His letter continued: "Since I have a most unusual taste for blood, I drank and licked and lapped up my fill … Let it be known: I am Lucifer's Maiden servant, sent to earth born of sin, to bring suffering and pain, darkness and evil."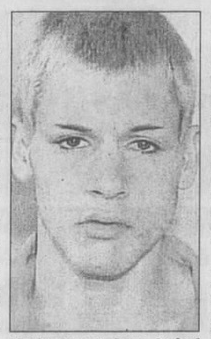 Cerf had paid Andrade to perform oral sex on him at the time of the killing. He claimed to have been high on cocaine and "just got carried away." He wrapped her body in a tarp and told a friend what he'd done, hoping the friend would help him remove fingers, teeth and eyes from the corpse in an effort to make identification more difficult.
Cerf, who was 19 at the time of the murder, had just been released from Bergen County Juvenile Detention where he was being held for an unspecified sexual offense.
The state Parole Board would later admit to mishandling his case. Rather than being transferred to an adult facility, Cerf was released without being assigned a parole officer or requirements to adhere to a supervision plan. Possible requirements of supervision would have included a curfew and psychiatric counseling. Within 17 days of his release, he murdered Andrade.
As reported by The Record of Hakensack, Cerf boasted of the brutality he had inflicted on Andrade, saying: "I broke her trachea, and made her swallow her tongue. Blood then comes out of the mouth. I used my knuckles to break her trachea."
Cerf said he drank her blood "so I could allow this person to live vicariously through myself."
Throughout his adolescence, he was described by psychologists, educators and social workers as "uncontrollable." Cerf had allegedly been diagnosed with mental health conditions by the time he was 8 years old.
During his childhood, Cerf would batter his adoptive mother, Mary, and at one point threatened to kill her. As a youth he spent time in state custody for a variety of crimes, including sexual assault and violation of probation. He also admitted to lying to counselors about having been sexually abused as a child "to get attention."
In April 1997, Cerf was placed in St. Peter's Village, a specialized residential treatment program in Denville, New Jersey. He was expelled from the facility after two months due to "sexual acting out" and "assaultive behavior," according to the probation report.
During his trial for the 2002 murder of Andrade, prosecutors initially offered Cerf a 40-year sentence if he pleaded guilty to rape and murder. However, Cerf told authorities he didn't want to enter prison on a sex-related charge and accepted a 50-year sentence to avoid a rape conviction.
"Going to prison on a sex charge would be a safety concern for me," Cerf said at the time.
A 2003 report from local outlet The Record depicts a photo of Cerf smiling for reporters and claims he "appeared to enjoy his time" in front of the Bergen County Superior Court Judge.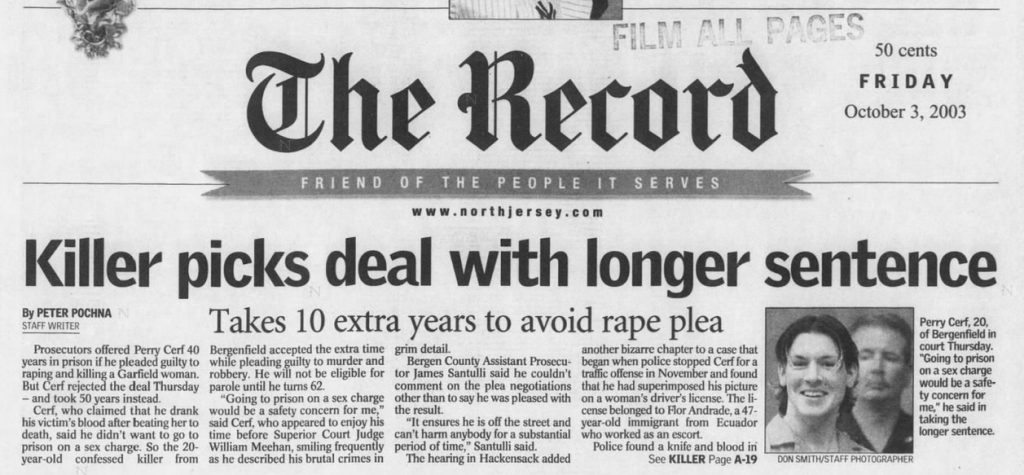 While incarcerated at New Jersey State Prison, Cerf assaulted other inmates and at one point was placed in solitary confinement for 23 hours each day. He had initially been placed in the mental health ward but was moved because of "aberrant behavior" against others.
In 2005, he told his prison psychiatrist, Dr. Marina Moshkovich, that he wanted to murder the Associate Administrator Michelle Ricci by breaking her neck, hitting her in the head, beating her up, and choking her.
He had also grabbed his psychiatrist by the hair and attempted to beat her. He was served with a disciplinary report for threatening another person and for assault, and for fifteen other offenses which were ultimately either dismissed or for which he was found not guilty.
During this same year, Cerf began to identify as a woman.
According to the website of the New Jersey state Department of Corrections, Cerf is now listed as "female" in official documents and has been transferred to New Jersey's only correctional facility for women, Edna Mahan.
The date of his transfer is not specified, though it may have occurred some time during the past year. In June 2021, New Jersey adopted a policy allowing for male convicts to be housed in the female prison estate following a settlement with the American Civil Liberties Union (ACLU).
On April 13, 2022, the New Jersey Department of Corrections confirmed that two female inmates at Edna Mahan had become pregnant after sexual encounters with trans-identified male inmates housed there.
---
Reduxx is a newly-launched independent source of pro-woman, pro-child safeguarding news and commentary. We're 100% reader-funded! Support our mission by joining our Patreon, or consider making a one-time donation.