Two Spanish psychologists are under siege by violent trans activists at one of Spain's top universities following the release of their book critiquing gender ideology.
In February of this year, Drs. José Errasti and Marino Pérez Álvarez published a book titled Nobody is Born in the Wrong Body: The Success and Misery of Gender Identity. The book was intended to provide an academic critique of queer theory, and refutes current transgender trends in medicine and psychology as a byproduct of postmodernism.
Immediately after the release of the book, Errasti and Pérez Álvarez began receive disturbing threats from trans activists across Spain.
At a conference for the book held at the University of Palma in April, a photo of Errasti and Pérez Álvarez with death-like crosses over their eyes was circulated by activists looking to brigade the event. The conference was ultimately cancelled due to the overwhelming threat of violence.
Later that same evening, multiple police vans had to protect the entrance of a book launch at the Casa del Libro in Palma de Mallorca.
Another event for the book at a store in Barcelona was met with similar threats, and also had to be cancelled after police informed Errasti and Pérez Álvarez that activists were intending to set the bookstore on fire.
But a fresh wave of terror has erupted at the Complutense University of Madrid (UCM) this past week, where graffiti has emerged around the Faculty of Politics buildings threatening violence against "transphobic professors."
While neither psychologists are currently teaching at the school, the threats were written on the pages of Errasti and Pérez Álvarez's book.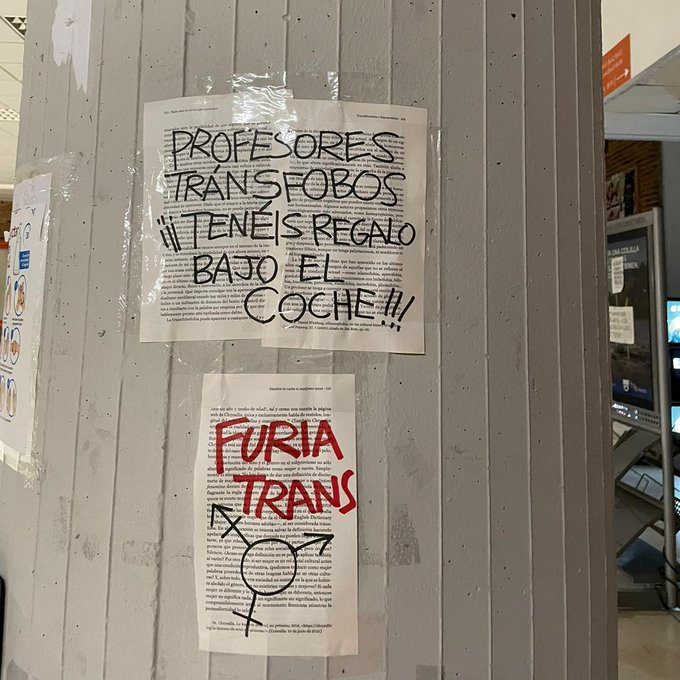 Threatening to burn "TERFs at the stake" and leave bombs under the cars of gender critical professors, some of the signs have been marked with the slogan "the Inqueersition" — a clear reference to the group of powerful institutions within the Catholic Church established in the 12th century to punish heretics.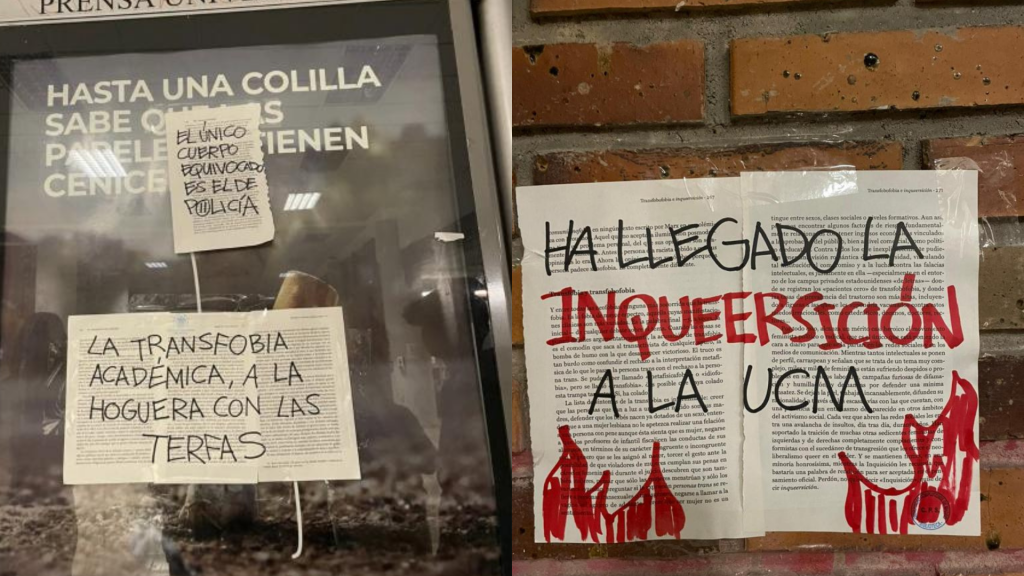 On October 27, a trans activist group claimed responsibility for the signs, issuing a short Twitter statement that the action had been prompted by the discovery that Errasti and Pérez Álvarez's book had been stocked in the University's library.
The Asociación TransMariBiBollo (LGBTI), which loosely translates to the Trans-Sissy-Bi-Dyke Association, wrote on Twitter: "We are tired of transphobia on the part of the teaching staff and the UCM. We want all transphobic books out of our libraries and an end to hate speech on our campus."
LGBTI had reportedly taken out all copies of Errasti and Pérez Álvarez's book from the library and destroyed them in order to make the signs.
Speaking to Reduxx, Dr. José Errasti says he and Pérez Álvarez were not explicitly named in the threats, but the intention was clear.
"The Complutense released a statement on Saturday afternoon saying that it would investigate who was behind the threats… But on Twitter, the Asociación TransMariBiBollo has claimed the posters, so there isn't much to investigate," Errasti explains.
Errasti says the reaction to his work on gender ideology from his academic colleagues has been mostly positive, and that the violent pushback has exclusively been from trans activists.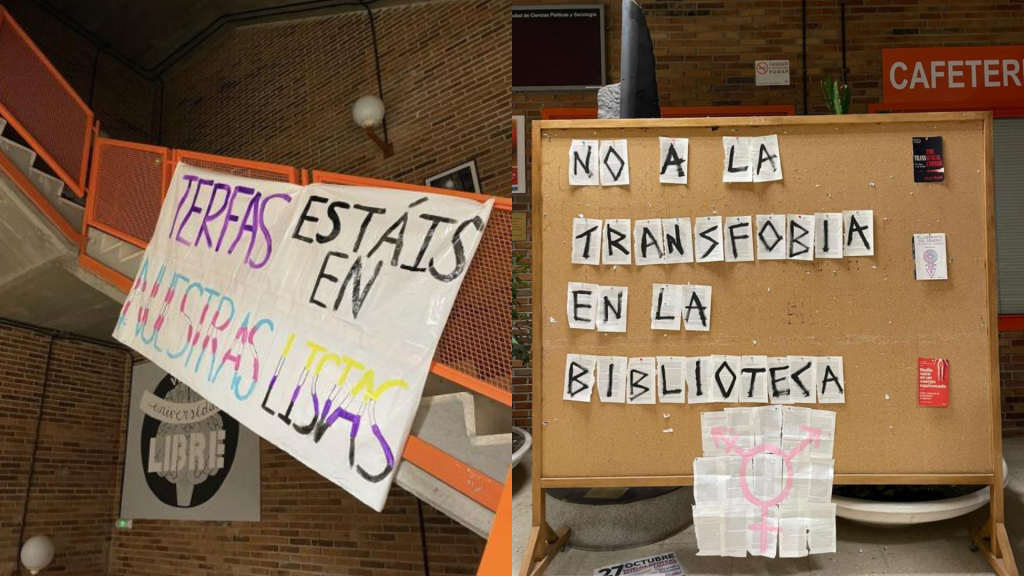 Despite the often-violent nature of the disruptions, Errasti doesn't express much concern for his safety, and instead points to a Streisand effect taking place.
"Every time there has been an incident, it has caused a significant increases in book sales," he says. "In fact, the highest moment of book sales occurred as a result of what happened in Barcelona, ​​where our book trended as the 4th best-selling book in Spain in all categories for about 24 hours."
Trans activists in Spain are notoriously aggressive, and have frequently used threats of death or violence against political opponents in the past.
Earlier this year, a trans rights organization in Basque, Spain began releasing a series of disturbing videos in which balaclava-clad activists read off disturbing statements while standing in front of a trans-pride flag, obviously in the styling of a terrorist group. OZEN!LGBT members used a voice changer while appearing to call for the gender identity clinic at the University Hospital Cruces to be burned down.
The activists were dissatisfied with the service at the clinic, but did not elaborate on why.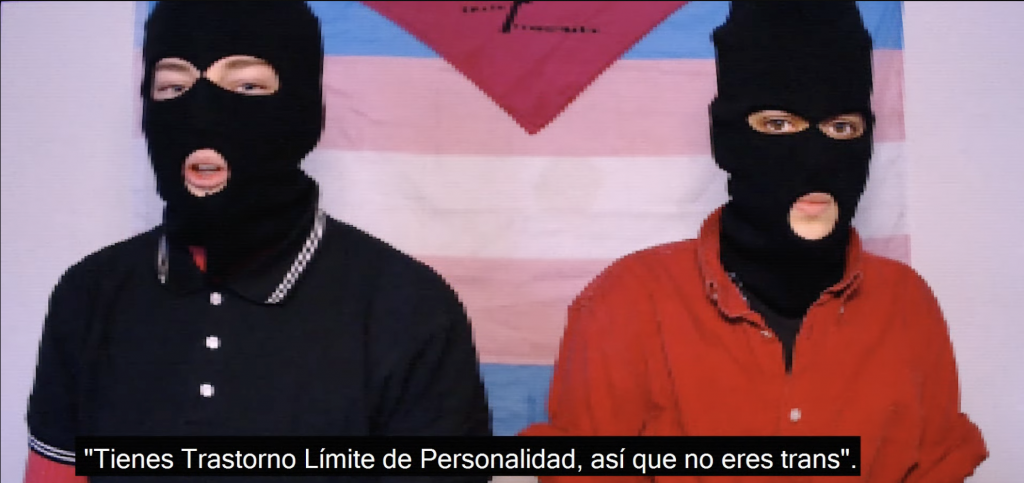 In 2021, a corpse-like effigy of Spain's then-Deputy Prime Minister Carmen Calvo was strung up from a tree in the Plaza 8 de Marzo in Compostela ahead of International Women's Day.
Calvo had become a target for trans activists after she signed a Socialist Party statement criticizing gender self-identification, and voiced concerns over transgender legislation.
---
Reduxx is a newly-launched independent source of pro-woman, pro-child safeguarding news and commentary. We're 100% reader-funded! Support our mission by joining our Patreon, or consider making a one-time donation.