A transgender-identified male has gone viral on social media after posting a disturbing video to TikTok threatening violence against anyone who might attempt to prevent him from using a women's restroom. The user has been found to be a baby fetishist into "ageplay" and "diapers."
"Tara" Jay White, previously known as Thomas Jay White, posted the now-deleted video to his TikTok account @Tara_vs_TW. In the video, he threatens people who object to his presence in the women's restroom, stating that attempting to prevent him from accessing women's spaces would be "the last mistake you ever make."
White then goes on to encourage other men who identify as transgender to purchase firearms, saying "this is a call to arms." The video has since been shared across other social media platforms, with people expressing outrage. White's "call to arms" began circulating just weeks after a horrific shooting at a school in Nashville, Tennessee involving a transgender shooter, and the subsequent arrest of a trans-identified male who had planned mass murders at churches and schools.
Although White's video has since been taken down by TikTok, he addressed some of the criticism he has received in a recent post.
"I don't care if I lose this account. Report it all you want … I'm still going to use women's restrooms and women's locker rooms," he stated in a follow-up video. White has since released multiple videos addressing negative comments, specifically those demanding he stop using the women's facilities, taunting users.
In his TikTok bio, White refers to himself as a "Poly Trans Lesbian," with "poly" used as slang for polyamorous – being in a relationship with multiple sexual partners. He also boasts that he is "back with a vengeance" and has several other social media accounts including through Instagram, Twitter, YouTube and Clapper.
On one of his Twitter accounts, White describes himself as a "diaper trans mommy" and a "transfemdom." White posts hardcore pornography on the account, including photos of himself wearing diapers and children's clothes. Using the handle @tvs_w, White again threatened violence against those uncomfortable with him using the women's restroom.
"[sic] I am someone who also doesn't want to see any harm come to kids, but I will NOT tolerate some big fat hairy neck Beard threaten any Trans girl for simply wanting to be safe and use the womens restroom. I will beat a hillbillies ass, oh and this Tranny is packin, LEGALLY," White wrote.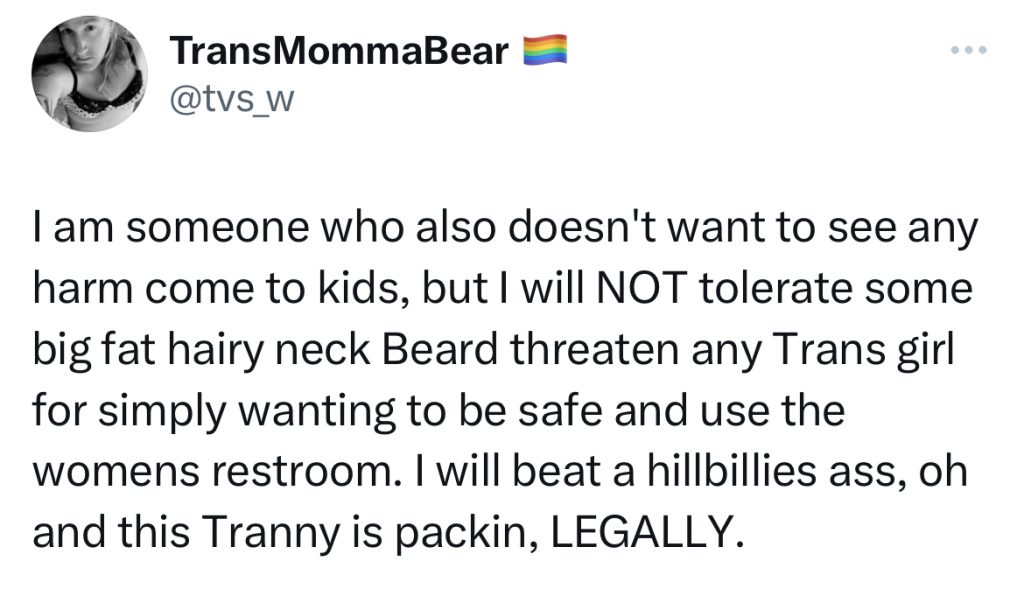 On White's Instagram, he has posted an image of condoms on a Bible, and complained about how "polyamorous trans lesbians" are not accepted in the lesbian community.
"I have received hatred from the lesbian community because I'm Transgender. I know that a lot of Lesbians have been given a huge misconception about the Trans Female community by the alphabet mafia, and I can sympathize with that. I have also received negativity for being polyamorous as well. I have multiple girlfriends that I love more than life itself and they love me," White stated in the description of an Instagram post.
Despite being a male who actively seeks to use women's spaces, White has expressed support for conservative policies. In 2018, White started a podcast called Tranny vs. The World, on which he criticizes "social justice warriors" and "libtards," and expresses support for Donald Trump.
"[sic] Hey I'm Tara Jay, Transgender Gamer Girl not on the looney spectrum. Just your average redneck, gamer geek girl that loves guns and schtuff. Not a typical Snowflake nor a FemiNazi, just a chick with a dick who practices common sense and loves her Constitution," the description of the podcast reads on Spotify.
During one episode dedicated to sex, White proclaimed: "men line up to fuck me."
Prior to changing his name to "Tara," White was known as Thomas and lived in Lansing, Kansas. On his historic Facebook account, White posted photos from his wedding to a woman who he appears to have since divorced.
Disturbingly, White posted several screenshots to his Facebook in 2015 of private messages from his sister suggesting he had severe anger issues and had been emotionally or even physically abusive towards her. White posted the screenshots in an apparent effort to bully or taunt the woman further.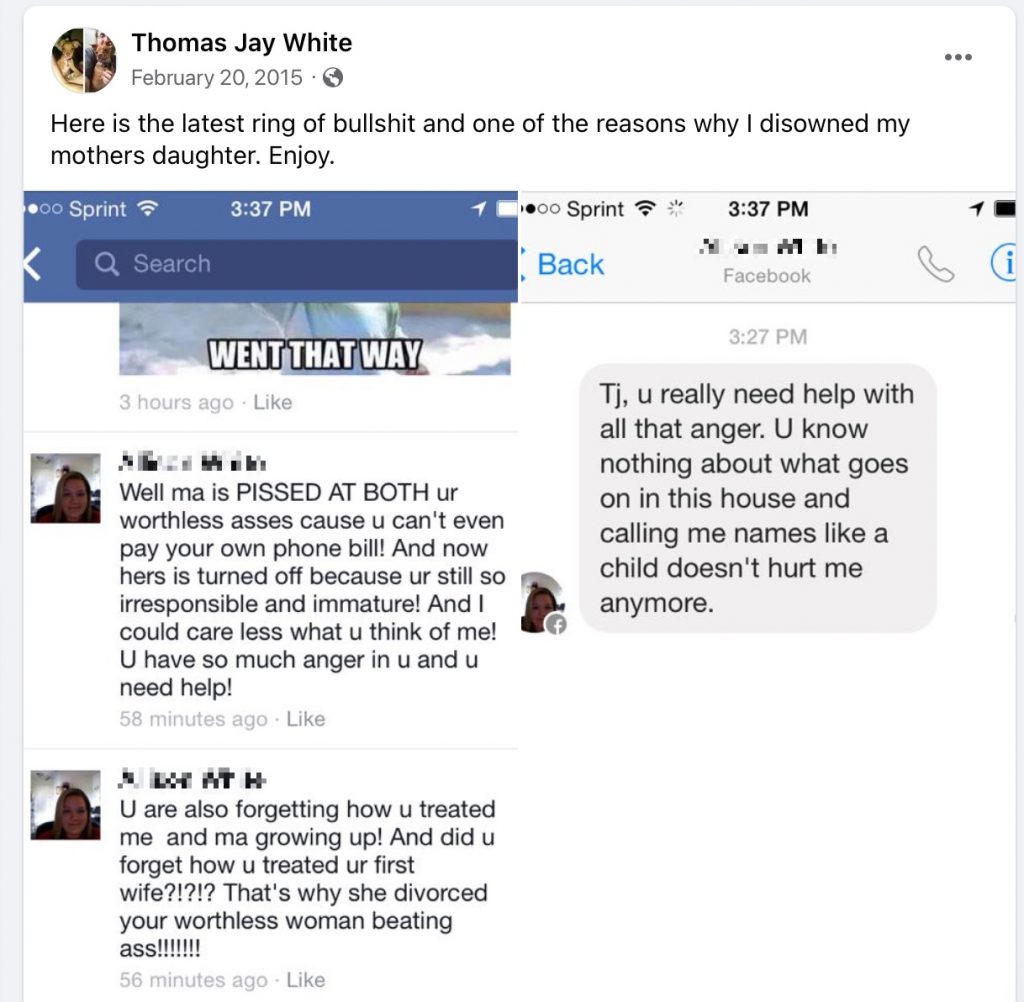 In another message posted by White, his sister accuses him of having been physically abusive towards his ex-wife.
On his Facebook, White, who claims to have previously served in the US Navy and as a firefighter, frequently posted pictures of the confederate flag, writing supporting messages about its symbolism.
"Why is there even controversy over this? The whole flag thing is stupid. The confederate flag is not a symbol of hate or racism, it's a symbol of bravery and patriotism," White wrote in a quote superimposed over a confederate flag image. "Removing the confederate flag due to it being offensive to blacks is like removing the American flag because it is offensive to Native Americans."
White ends the post by saying: "Before people accuse me of it, no I'm not racist."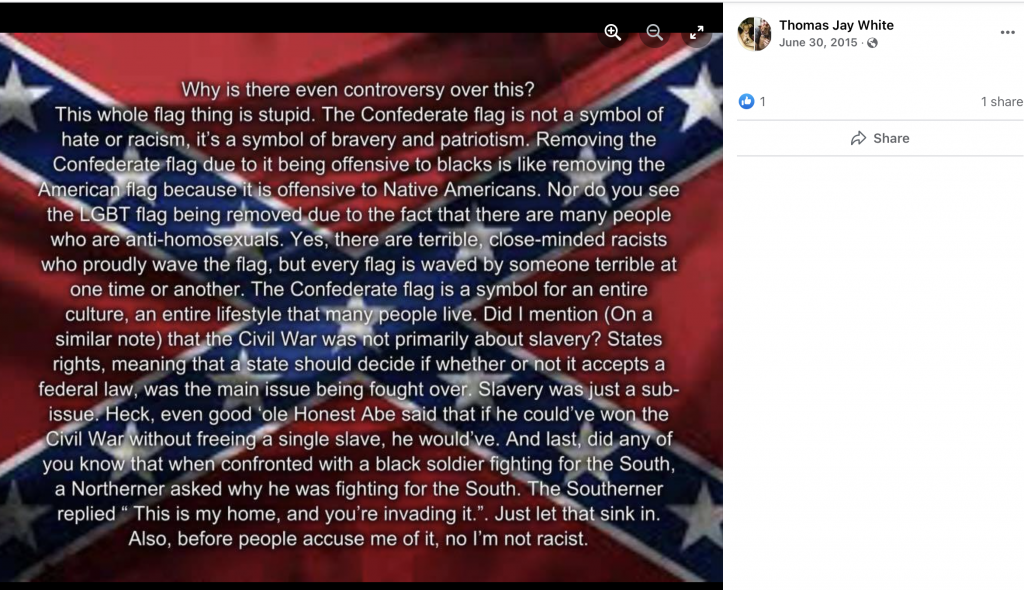 White also posted posted anti-Black Lives Matter content, and made derogatory remarks about Muslims.
In a post from 2015, White shared a screenshot of a man encouraging Americans to smear their money in bacon grease when patronizing Muslim-owned businesses, writing: "Let's see what is stronger, their faith or their greed."
In response to the post, White praised the plan, writing: "This guy has the best way to really fist all filthy moslims [sic] in the ass with no lube. I am doing this to ALL of my bills that I get, even my change too. I have a can of yoders bacon chock full of pig fat to last me A VERY LONG TIME of coating my money."
White appears to have begun transitioning in 2017.
---
Reduxx is your source of pro-woman, pro-child safeguarding news and commentary. We're 100% independent! Support our mission by joining our Patreon, or consider making a one-time donation.