The trans-identified male who allegedly exposed himself to a 17-year-old girl at a YMCA facility in California has stepped forward to reveal his identity in response to a January 18 rally held outside of the property. Christynne Lili Wrene Wood, 66, addressed a crowd of counter-protesters and stated, "I'm the scary transgender woman who that child misidentified as a man."
The Santee YMCA has become the subject of international concern after clips from a January 11 city council meeting went viral on social media. During the meeting, local teenager Rebecca Phillips became emotional as she told representatives that she had seen a nude male in the women's locker rooms at the YMCA.
Phillips said that she was showering after her workout when she "saw a naked male in the women's locker room," and became emotional as she recounted her ordeal.
"I immediately went back into the shower, terrified, and hid behind their flimsy excuse for a curtain, until he was gone. I ran into a bathroom stall to change as quickly as I could, organizing my thoughts to share with the people at the front desk. As I did so, I could only think of my five-year-old sister, who I bring to this gym during the summer," Phillips said, tearing up.
Phillips also said that when she questioned YMCA staff about the presence of the male in the women's facilities, she was told that "he was indeed allowed to shower wherever he pleased."
The video of Phillips' testimony went viral online, which led to her being invited to speak with Tucker Carlson about the incident.
When asked about the public response to her statement, Phillips said that the feedback she'd received had been "largely positive," and that "parents and women" were "outraged" by policies that allow men to identify into women's spaces of undress.
"Our efforts to cater to the rights of transgenders to express themselves are threatening my safety and my privacy, and also the safety and privacy of all the other women and children who are frequenting that YMCA," she said.
Though she has received some positive comments, Phillips has become a target on social media for trans activist hatred. She has been called "scum," a "pervert," and a slew of sexist slurs for raising her concerns about a male in the women's locker room.
In a show of support, a rally was held on her behalf on Wednesday evening outside of the Santee Cameron Family YMCA building.
The demonstration was organized by Santee Parents 4 Choice, and an estimated 300 attendees turned up, the overwhelming majority of whom were supportive of Phillips. In addition to concerned residents and public officials, dozens of sheriff's deputies were present.
The rally was live-streamed by women's rights advocate Amy Sousa on her YouTube channel. Speakers presented on the topic of the rights of women and children.
City Council representative Laura Koval took to the podium to speak about her fears that safeguarding was being sacrificed to accommodate a political agenda.
"I'm deeply concerned. Is it really a controversial statement for me to say a girl should not be encountering a biological male in her locker room?" Koval asked. "It's not about the body parts, it's about the threat women feel. Children need to feel safe, girls need to be safe."
She added: "Staff at the YMCA, or any other place of business, should not be put in the position of determining 'gender identity' versus a criminal sexual disorder like voyeurism, exhibitionism, or pedophilia."
In response to the public outcry, a spokesperson for the YMCA of San Diego County told KUSI News that management would be reviewing the floor plans of locker rooms at their facilities in the state of California, and added, "We are working diligently with the YMCA to find a solution that will allow Rebecca as well as every child, woman, and man to always feel safe and be safe at the Santee YMCA."
The trans-identified male at the center of the controversy, Christynne Lili Wrene Wood, whose birth name is Christopher, attended the rally with a small group of trans activists – some of whom chanted, "Nazis, shut the f*ck up!" at the participants.
It was at this event that Wood came forward to publicly identify himself. Wood praised the Cameron Family YMCA as a "magnificent organization" before accusing Phillips of "misidentifying" him as a man.
"I'm Christynne Lili Wrene Wood. I'm the scary transgender woman who that child misidentified as a man," Wood said. He then turned his attention to his supporters and stated: "You're the people we truly love, and you're the next generation to make those Neanderthals irrelevant."
Wood, a Navy veteran who began taking female hormones in 2016, spoke with ABC10News and suggested that Phillips had deliberately misled the public.
"They begin with the lie of there's a naked man in the locker room," Wood told the media, adding that he is actually a woman, and claiming that he always showers with the curtain closed in one of the five private stalls in the women's locker room.
But Wood has a history of suing health facilities after claiming "discrimination" for being denied access to women's areas.
Wood had previously made headlines in 2021 after winning a lawsuit against Crunch Fitness gym in El Cajon, California. The lawsuit alleged that the Crunch Fitness gym and its owner, John Romeo, discriminated against Wood on the basis of his self-declared "gender identity."
Wood had asked to use the women's facilities in 2016 after claiming to have been harassed in the men's locker rooms.
After Wood was denied use of the women's locker rooms and bathrooms, he obtained a court order legally changing his name and sex marker on his official documents.
The local branch of the American Civil Liberties Union (ACLU) represented Woods in his legal claim. In a promotional video produced by the ACLU, Woods said, "I went in and told the management of the gym… I'm legally Christynne Lili Wrene Wood, and I'm a girl."
Wood continued to demand right of access to the women's locker room, but managerial staff stated they were uncomfortable with him doing so as, at the time, he had not undergone any surgery and retained male genitalia.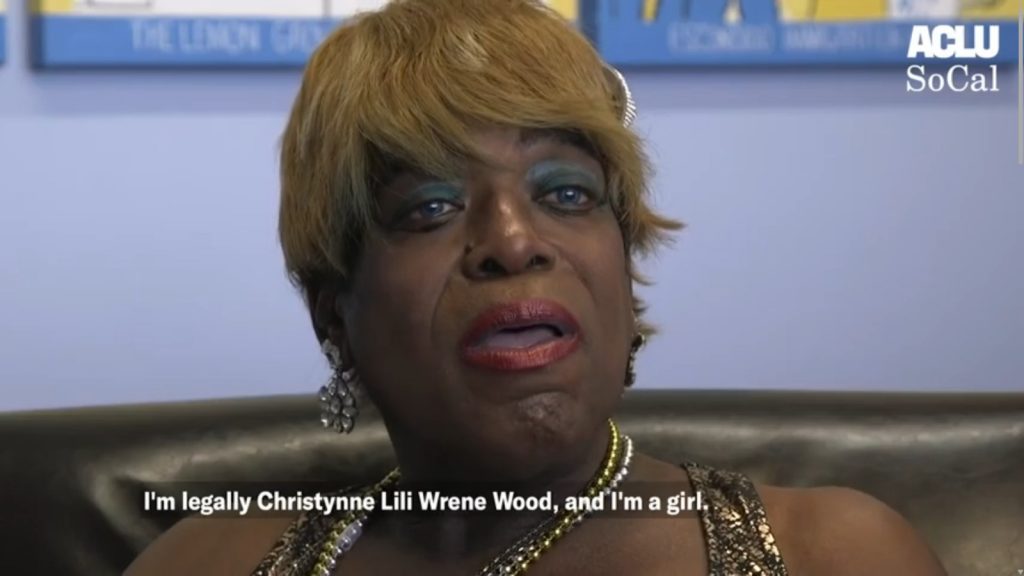 The California Department of Fair Employment and Housing, which enforces the state's civil rights laws, filed the suit against the gym on April 17, 2018, after receiving a formal complaint from Wood. In addition to the ACLU, Wood received legal representation from the law firm of Nixon Peabody LLP.
In December 2021, Wood told The San Diego Union Tribune that he was delighted by the outcome of his lawsuit. "The real thing that makes me joyously happy is that the word is out there now that you can't pull this with the transgender community," he said, continuing, "Whether you are uncomfortable or not is irrelevant."
He then went on to compare his desire to access the women's changing rooms to segregation.
Wood has made repeated comparisons between the U.S. struggle against racism and his perceived right to access spaces where women are naked.
"My great aunt and uncle and my grandparents marched with Dr. King," Wood told ABC10News on Wednesday.
Speaking with the Times of San Diego on the most recent incident in Santee, Wood compared his situation to the 1955 lynching of 14-year-old Emmett Till, an African American child who was abducted, tortured, and murdered in Mississippi after being accused of sexually harassing a white woman at the grocery store.
Wood implied that in his case, it was Phillips who had told "a lie" which resulted in "hysteria".
"Thank God, I've got protection and people with me that see to it that I don't suffer that kind of pain," he said. "But don't you think that there aren't people over there right now that would love to come over and rip me piece [by] piece?"
Wood appears to have undergone the procedure euphemistically referred to as "gender reassignment surgery" in February 2020, as evidenced by a Facebook video he posted recommending Mills Peninsula Hospital, and praised the facility's surgeon, Dr. Marci Bowers.
Bowers, who also serves as the current president of the World Professional Association for Transgender Health (WPATH), has become known for performing genital surgery on reality TV star Jazz Jennings. In one episode of I am Jazz aired in 2019, Bowers inspects and photographs 17 year-old Jennings' genitals and compares the teen to a "porn star."
Last September, WPATH, under Bowers' direction, released new guidelines related to the medical 'transitioning' of children. Among the recommendations include reducing the age at which children can receive 'puberty-blocking' drugs and cross-sex hormones to as young as 9 years old. Age restrictions on surgical interventions have also been relaxed. In a change from previous protocols, no specific minimum age is recommended as a cut-off point.
Responding to the news of Woods coming forward, California State Senator Scott Wiener was quick to condemn as "transphobic" the brief and peaceful rally, which focused on the safeguarding of women and children from sexual predators, and portrayed Wood as a victim of "disgusting political attacks."
Senator Wiener came under public scrutiny last year after he authored a controversial law that as of January 1, now allows California to serve as a "sanctuary state" for minors seeking puberty-halting drugs and invasive 'gender confirmation' surgeries.
---
Reduxx is your independent source of pro-woman, pro-child safeguarding news and commentary. We're 100% reader-funded! Support our mission by joining our Patreon, or consider making a one-time donation.