Famed author J.K. Rowling called out Twitter's lack of policy enforcement after an account which released her address with a threatening message was allowed to remain active for days despite reports. Reduxx has now learned that the user behind the account is an Irish social justice activist and "feminist" organizer.
Rowling set off a firestorm of concern from netizens on July 1 after uploading a screenshot of a disturbing tweet that had been directed at her from June 14.
Originally posted by user @fuckfinegael, the quote retweet featured two images — one of Rowling with her address overlayed on her face and a pipe bomb in the corner, and the other of an Improvised Munitions Handbook. The guide, originally published by the US Army in 1969, was created for the purposes of teaching soldiers how to create explosives and weapons using limited resources.
In her tweet of the screenshot, Rowling clarified she had covered her family's address to prevent further circulation.
The threatening message had been in direct response to a post Rowling had made in support of a male detransitioner.
In her post, Rowling stated that the account was still active despite having released her home address with an obviously abusive connotation. After Rowling's tweet went live, the account, @fuckfinegael, was deactivated and then deleted by the user, suggesting no action by Twitter had been taken. The handle has since been claimed by a user unrelated to the situation.
Prior to deactivating, @fuckfinegael's only other identifying information was a first name: Shane.
But despite being deactivated, a quick search through the publicly-accessible Internet Archive's WayBackMachine will quickly reveal that the account belongs to Shane Murray, an Irish social justice activist.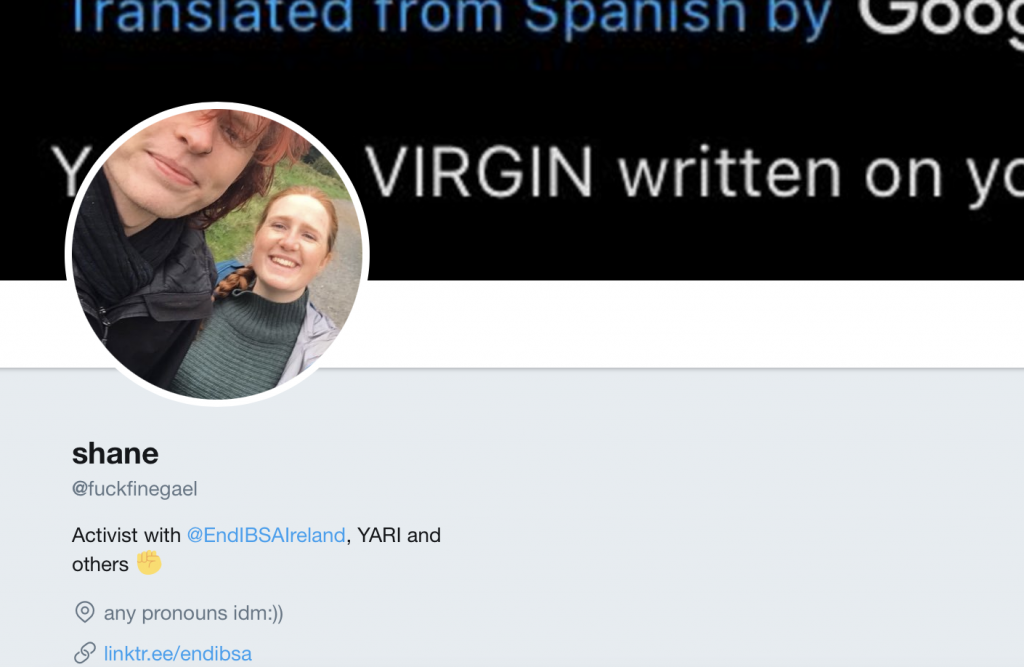 A screen capture of Murray's account from 2021, taken by the WayBackMachine's automated system, shows he described himself as an organizer with multiple social justice groups, including End Image-Based Sexual Abuse (End ISBA) Ireland, Youth Against Racism and Inequality, and ROSA Social Feminist Movement Ireland.
Murray was featured as a social media coordinator for the End ISBA campaign on two occasions in 2020, in both the University Times and the College Tribune. The advocacy group was an effort launched by University College Dublin Student Union representatives of which Murray was one, and was focused on targeting internet-based abuses, specifically that of a sexual nature such as 'revenge pornography.'
Last year, the End ISBA official Twitter revealed Murray was one of its team members certified by Ohana Zero Suicide in crisis awareness training. Just prior to deactivating his Twitter account, Murray abused women critical of gender ideology and, in at least one archived instance, suggested a feminist commit suicide.
In November of 2020, Murray was highlighted by the University College Dublin Students' Union as an "intersectional feminist" activist.
According to WayBackMachine logs, Murray deactivated his Twitter account in April of 2021, only to return in May of 2022 with the stated purpose of finding spare tickets to a concert he wanted to see. It wasn't until June that he began to use the account regularly again, this time also revealing he identified as transgender.
Murray has since deactivated all social media, including his Facebook.
On July 2, Police Scotland announced an official investigation had been launched into the threats aimed at Rowling.
Since first revealing she had concerns about the impact of gender ideology in 2019 by throwing her support behind British feminist Maya Forstater, Rowling has been the subject of ample abuse from trans activists, media, and other celebrities.
Earlier this year, Rowling's fantasized death was celebrated in an Amazon-bestselling gore novel titled Manhunt. Described as an 'LGBTQ horror,' the plot of the book is centered around trans-identified males graphically murdering feminists, referred to as 'TERFs.'
In a Tweet advertising the book published by the author, Gretchen Felker-Martin, the death of JK Rowling is alluded to and treated as a point of entertainment.
The book contains two references to the death of the Harry Potter author: one in which she is burned alive, and a second allegory of her demise in the form of a weapon called the Galbraith being destroyed.
The 'TERFs' in the novel are also referred to as "the Knights of JK Rowling," with the women holding her namesake participating in the brutalization and sexual abuse of trans-identified males.
The details in this article have been passed on to Police Scotland.
---
Reduxx is your independent source of pro-woman, pro-child safeguarding news and commentary. We're 100% reader-funded! Support our mission by joining our Patreon, or consider making a one-time donation