A woman who was assaulted by a trans-identified male during a demonstration in Tacoma, Washington, was instructed by his legal representative to refer to him with feminine pronouns during court proceedings.
April Morrow was left injured after a trans-identified male "crushed" her hand in a bid to stop her from recording video on her phone during a women's rights rally in October 26, 2022. Morrow is a women's rights campaigner and the founder of Sovereign Women Speak, a grassroots organization that aims to "build resistance to a culture which conflates gender and sex," and had attended the rally in support of women who wanted to voice their opposition to gender ideology.
The event was one of several that had been organized as part of a US tour featuring British women's rights campaigner Kellie-Jay Keen. Keen is known for having founded Standing for Women to raise awareness of issues surrounding sex self-identification policies.
Morrow and other women had gathered at Tacoma's Tollefsen Plaza for a peaceful demonstration, but were quickly met with violent behavior from trans activists who showed up to counterprotest.
While the female demonstrators held signs which listed slogans such as "Woman: Adult Human Female" and "Girls' Privacy is Not Yours to Give Away," counter protesters arrived prepared with brass knuckles, face masks to obscure their identity, and aggressive signage. Some were students from the local high school, Tacoma School of the Arts, which was located nearby.
The trans activist group quickly outnumbered and surrounded the women in the plaza, removing signs that had been posted by the women's rights collective in the vicinity. As tensions escalated, some of the trans rights activists were recorded attempting to spit on the women's rights activists.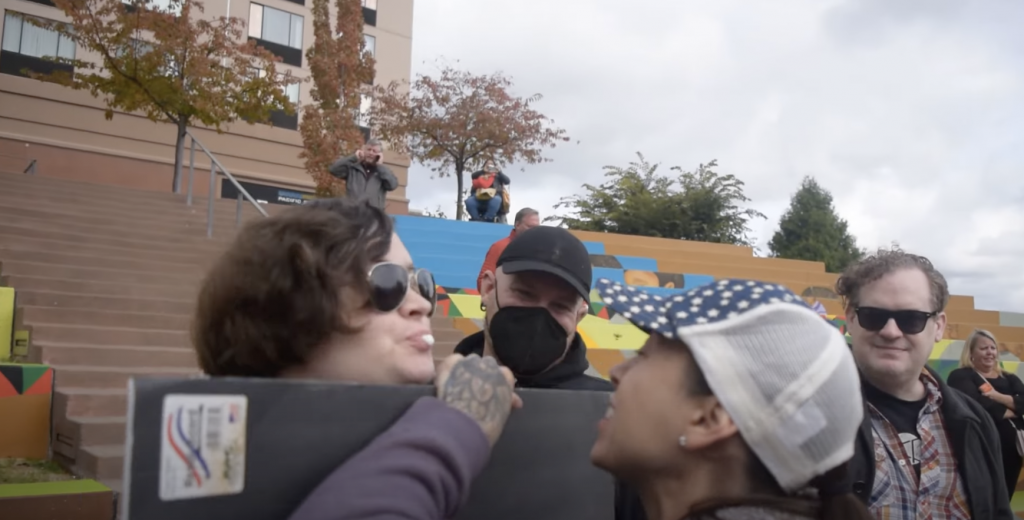 As the demonstration drew to a close and the counter protesters began to surround the women's rights campaigners, Morrow realized she had left her belongings behind, and made her way to the center of the plaza to retrieve her items.
She was then assaulted by Elijah Lane, 27, who attempted to wrestle her phone from her hand. The assault was captured on video during the event's live-streamed broadcast, and Morrow can be heard screaming over the protesters' chants.
Speaking with Reduxx, Morrow explained that she had been using her phone, which was mounted on an extension rod, to record the event.
"Suddenly I saw a hand reach to grab my phone. My left hand instantly went to grab my phone as my right hand lowered it to me. That didn't stop a man named Elijah Lane from placing his hand over mine and crushing my hand as he attempted to steal my phone. The pain was excruciating and I let out a blood-curdling scream," Morrow said.
Morrow dropped her phone and scrambled to pick it up, but as she bent over, Lane shoved her down while surrounded by a crowd of protesters.
"Feeling the mob around me was terrifying," Morrow said, and emphasized how, as the event was taking place, multiple individuals called the authorities and requested police assistance, only to be ignored until the demonstration concluded.
Women who had participated in the event with Morrow gathered around her and led her away from the plaza, and she can be seen in the recording looking dazed. The group was followed closely by trans rights activists, who continued to shout menacingly at the women.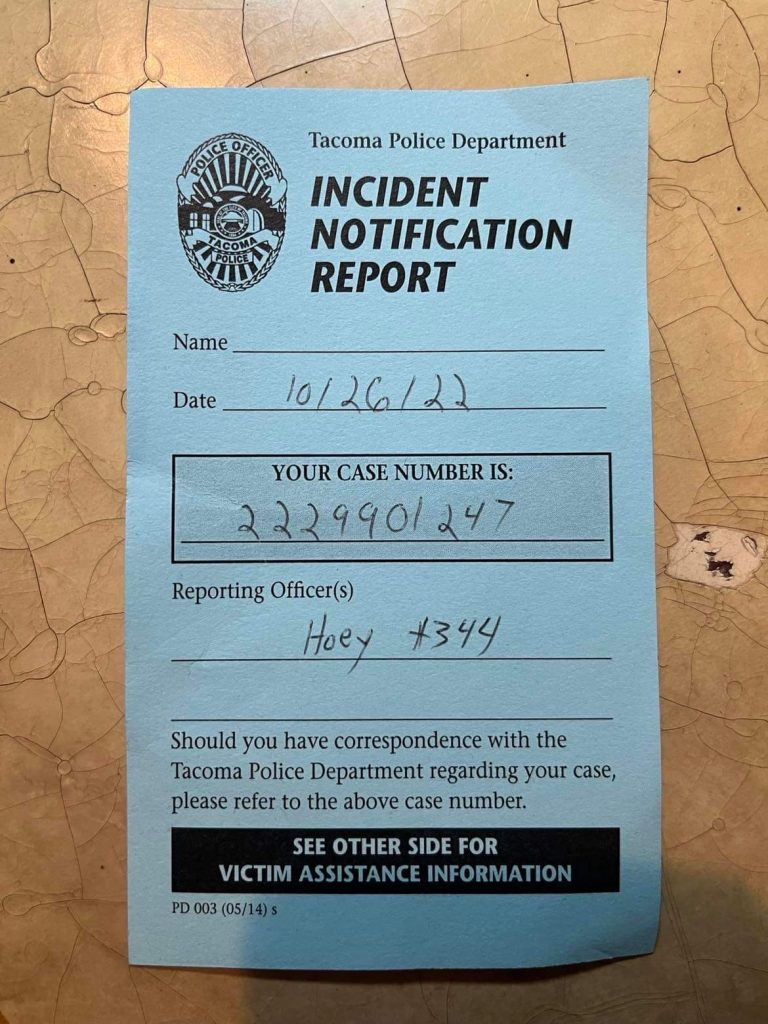 After the event, Morrow was able to file an incident report with the Tacoma Police Department. Lane was briefly detained, but was released shortly after pending a court hearing.
Lane is facing charges of fourth degree assault, and if convicted, he may face up to a year in prison and up to $5,000 in fines. However, Morrow pointed out that she believed the officer who recorded her complaint "minimized" the severity of the attack.
On January 31, Morrow posted an update about her case to Facebook, explaining that her attacker had been referred to as a woman and that she had been asked by legal counsel to do so.
"I just found out the man who assaulted me is claiming he is a woman," Morrow wrote. "I just left the courtroom shaking and holding back tears of fury. The prosecuting attorney referred to Elijah Lane as a 'she' and said 'she' has requested we use 'her' pronouns."
Morrow continued: "I said he is not a woman, it was a man that crushed my hand! His eyes lit up and he apologized saying he did not realize the extent of the damage to my hand."
Morrow has been attending medical appointments since the October assault, but explains that the initial treatment for the injury was insufficient.
The day after the event, on October 27, Morrow visited her general practitioner. An X-ray was conducted, but because the doctor did not detect breaks or fractures to her bones, she concluded that her condition would improve. Morrow has stated that she had several appointments with her doctor, but was repeatedly told that she would recover soon, despite her chronic pain and reduced joint dexterity.
Morrow suffers from fibromyalgia, a chronic condition with no known cure that causes pain, tenderness, and fatigue. Physical injuries can trigger a flare-up in the body's inflammatory response, which can lead to increased pain and longer recovery times for people diagnosed with the condition.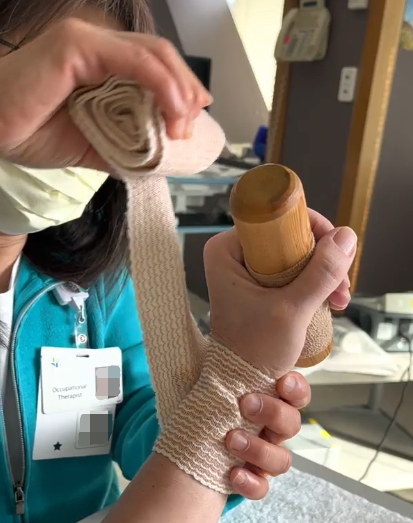 For the months following the incident, Morrow says the pain persisted, and she had lost the ability to close her hand. Her general practitioner finally conceded to refer her to a medical professional who specializes in hand injuries.
During a January 19 appointment, she was told that her hand should have been operated on the same day that she was injured. Morrow says the medical specialist asked her why an MRI had not been conducted, and speculated as to why her general practitioner, who "knows I am a TERF," refused her requests to have one carried out.
"She never ordered the MRI. It took her three months to finally send me to a hand specialist and only because I insisted," Morrow says.
As a result of not receiving proper treatment at the time of her injury, Morrow now has to undergo regular physical therapy.
"I have to go through strenuous and painful occupational therapy to break down the scar tissue that has grown around my knuckles keeping me from being able to close my hand," she said. Morrow shared with Reduxx a video of one of her physical therapy sessions in which her hand can be seen wrapped in a bandage.
"This all could have been avoided had my doctor done her job. She knows I am a dance instructor and need my hand for work. My dance studio has been shut down since," she explained.
During a livestream recorded earlier this month outside of Tacoma Courthouse, just before she attended another hearing on her case, Morrow said that the because injury had triggered a flare-up of her fibromyalgia, "all the things that hurt in my body now hurt tenfold."
Out of work and attending physical therapy sessions four to six times per week, Morrow is asking for donations to support her medical expenses. She had previously set up a crowdfunder on Givebutter on the basis that she is now unemployed and in need of treatment, but the campaign was taken down after trans activists complained.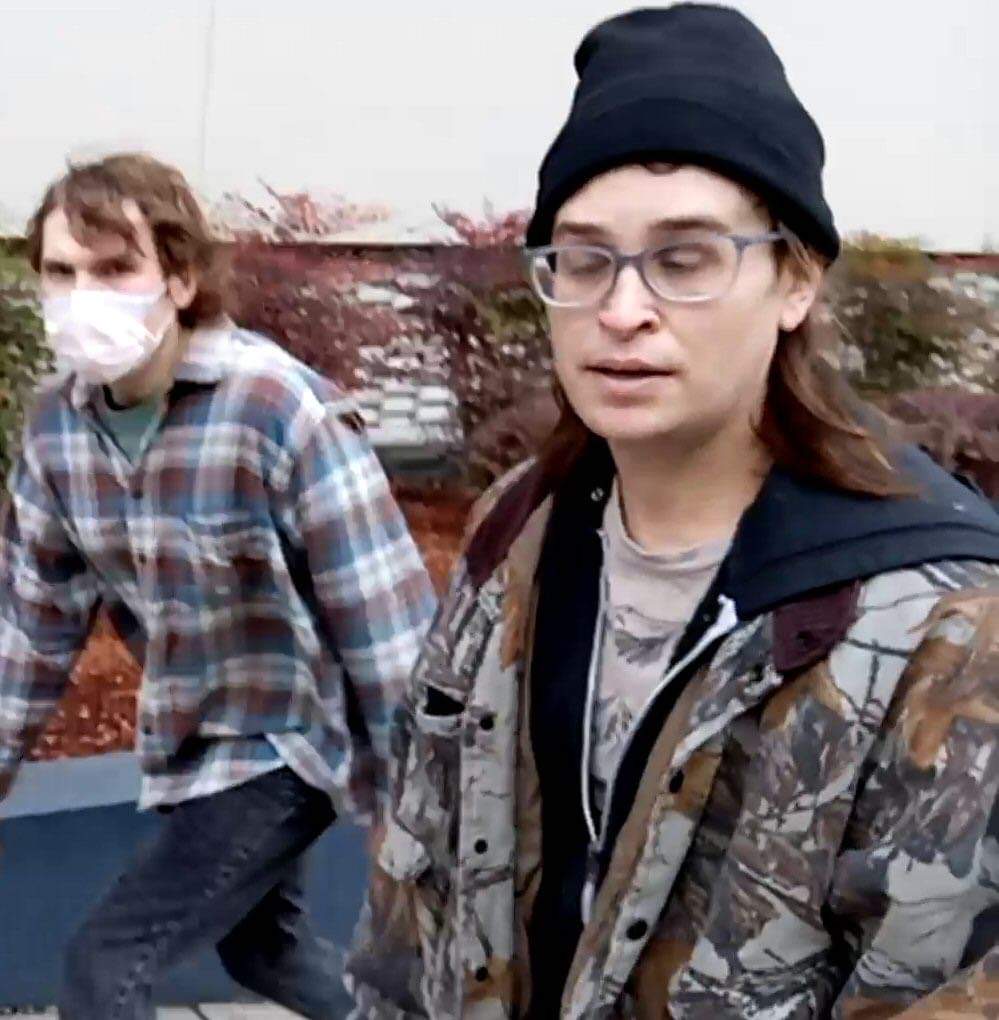 The next hearing is scheduled for April 10 at the Tacoma Courthouse, where Morrow will ask the judge to consider an additional hate crime charge against Lane. She says she was targeted specifically because of her views on gender ideology, and that prior to the October 26 event where she was assaulted, she had been campaigning against trans-identifying male convicts being transferred into the Washington Corrections Center for Women (WCCW).
Just two weeks after the Let Women Speak event in Tacoma, as Morrow was preparing another demonstration, she was frightened to discover that black-clad trans activists had already arrived at the agreed-upon location, waiting for the women's rights activists.
"My activism work here in Washington state is extensive," Morrow said. She explained that she is recognizable within her community for her work. She regularly contacts female inmates being held at WCCW and sends them information on legislation related to gender identity policies, in addition to having staged several protests outside of the prison.

Morrow is not the first woman to have been singled out for physical assault by trans activists for her views, and the trend of violence against women who express gender critical views appears to be escalating in its severity.
While there have been several cases of women being manhandled, shoved, or grabbed at events similar to the one in Tacoma, there have also been more severe incidents in which women like Morrow have endured serious physical harm.
Last month, Reduxx reported on the case of a woman in Melbourne, Australia who was hospitalized and left with horrific injuries and a permanent disability following a brutal attack from a trans activist. She speculates the assault had been over her gender critical views and that she had "misgendered" the assailant prior to the attack.
The trans-identified male responsible for the attack is due in court next month.
---
Reduxx is your source of pro-woman, pro-child safeguarding news and commentary. We're 100% independent! Support our mission by joining our Patreon, or consider making a one-time donation.