Women peacefully demonstrating against gender ideology were physically attacked by trans activists on Wednesday in Tacoma, Washington, during a planned counter-protest that has resulted in one woman sustaining a severely injured hand.
A group of women assembled on Wednesday at Tacoma's Tollefson Plaza to publicly express their concerns about gender ideology and its impact on women and children. The demonstration was one of several that had been organized as part of a tour featuring UK-based women's rights campaigner, Kellie-Jay Keen. Keen is known for having founded Standing for Women to raise awareness of issues surrounding sex self-identification policies.
Organizers of the protest included Lierre Keith, founder of US non-profit Women's Liberation Front, April Morrow of Washington-based organization Sovereign Women Speak, and Amy Sousa, a women's rights activist who has been involved in setting up public speech events across the United States modeled after London's Speaker's Corner tradition.
Demonstrators held signs which read, "Woman: Adult Human Female," and "Girls' Privacy is Not Yours to Give Away."
Counter protesters arrived prepared with signs reading "No TERFs in T Town" and "Trans Women are Women." Many were students from the local high school, Tacoma School of the Arts, located nearby. Their group quickly outnumbered and surrounded the women in the plaza, removing signs that had been posted by the women's rights collective in the vicinity.
Serve the People Tacoma (STP), which describes itself as a "socialist mutual aid program," called for followers to stage a counter demonstration in order to "show them they aren't welcome."
STP's co-chair, a trans-identified male named Zev Cook, was present at the event and was holding a sign which read "stop harassing me in the bathroom you weird perverts."
In one of the recordings available of the demonstration, an anonymous trans activist wearing a skirt was seen aggressively lunging towards Lierre Keith while she was speaking. Amy Sousa quickly intervenes, holding the man back as he screams, "get the f*ck out of here." The anti-feminist protesters can also be heard in the background chanting, "Go home, TERFs!"
In another clip, the same skirt-wearing man can again be seen charging at the group of women.
At one point, Tacoma School of the Arts principal Jon Ketler was also spotted near the protest, claiming he had no power over the students and could not force them to stop participating in the harassment and abuse of the women.
During the event, one women's rights demonstrator was forced to use self-defense spray against a trans activist after he tried to spit directly into her face.
Jeanna Hoch had been one of multiple demonstrators attempting to hold the line around where the women had been speaking, using a sign to create a physical barrier between herself and multiple males who had closed in on the space.
At one point, one of the young trans activists appears to try and spit directly in Hoch's face, something she responds to by holding up her sign to protect herself, and then issuing a blast of self-defense spray. The two men who had been flanking her tried to then physically intervene on behalf of the trans activist, and Hoch defends herself against them as well.
One of the other men flanking Hoch, seen wearing black sunglasses, is a local women's studies graduate named Sweet Pea Flaherty. Flaherty owns King's Books, a specialty bookseller on St. Helen's Avenue. On the store's site, Flaherty boasts that he mainly reads "young adult books with strong female protagonists."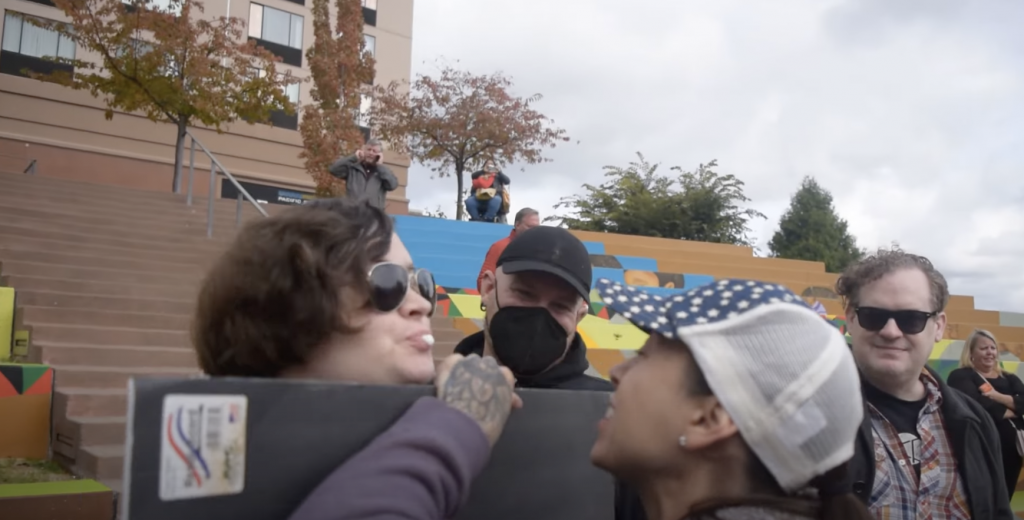 On social media, trans activists quickly spun the news into a claim that Hoch had "pepper sprayed high school students," with no apparent cause. But the trans activist who had attempted to spit on Hoch, and was subsequently pepper sprayed, was over the age of 18 by his own admission.
Trans activists on social media also claimed there was another incident of Hoch apparently mass-spraying a group of minors, but have not substantiated the claims in any way.
Hoch, along with other women, had previously been assaulted in Portland, Oregon, on October 25.
In addition to Hoch, another woman was physically assaulted and sustained a severely injured hand as a result. April Morrow's hand was "crushed" by an adult male trans activist attempting to wrangle her phone out of her hand. Morrow provided an update to Reduxx through Amy Sousa on her condition, noting that her fingers were still "swollen and stiff" and that she had an appointment for an x-ray to determine the extent of the damage for Monday.
During the live-streamed broadcast of the demonstration, viewers were urged to call the Tacoma Police Department and request that they provide protection for the women's rights protestors, who had obtained a lawful permit to hold their event.
But, according to Kellie-Jay Keen and other pro-woman demonstrators, Tacoma police had been unresponsive to their requests for help. The event was forced to conclude early as a result of increasing safety concerns.
The following day, October 27, several of the women at the Tacoma event spoke at a school board meeting, articulating frustration at the violence and threats they endured and at the lack of police intervention.
In one largely inaccurate local news report of the demonstration, the women involved were smeared as "virulently anti-transgender," and the violence against them was massively downplayed.
Speaking to Reduxx, women's rights advocate Amy Sousa said she was still "flushed with outrage" over what had happened on Wednesday.
"We are living in a time when women are being attacked in broad daylight for simply standing up for sex-based safeguarding for women and girls," Sousa says.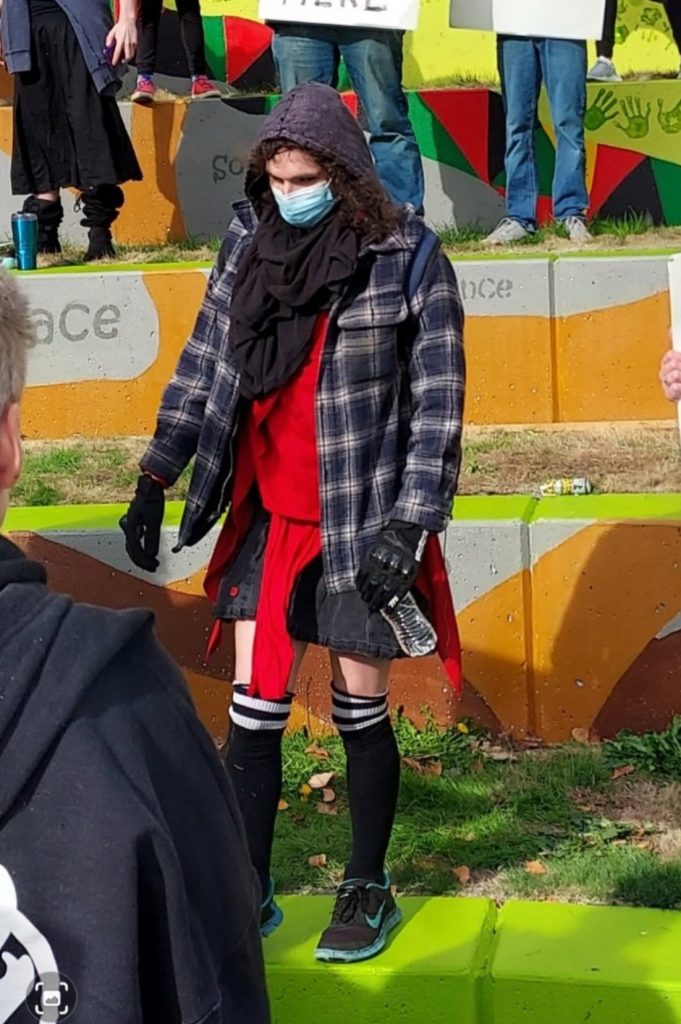 Sousa, one of the event's organizers, physically intervened in an attempted assault on Lierre Keith mid-speech, sustaining a bruised chest as a result. But Sousa says that, despite the risks, she felt compelled to defend Keith.
"When I saw that man running to tackle a woman from behind, my instincts took over and I responded by rushing in to defend her." Sousa says that the male who attempted to assault Keith was not a student, but had been one of the Antifa proponents who had come to intimidate the women. She points out that the activist had been wearing reinforced gloves with hard-knuckles.
She goes on to explain that the attack on the pro-woman demonstrators appears to have been well-organized between multiple Antifa-style groups in the area, noting that many of the trans activists even had "ear pieces" in for coordination.
"Male violence against women is being publicly condoned. As I also said in my speech, women do not consent," Sousa says. "I'm proud to stand up at events like these knowing that more and more women are standing up to affirm our boundaries, instincts, and bodily integrity as women."
Sousa has been regularly involved in setting-up pro-woman demonstrations in the west-coast this year, most notably in support of Julie Jaman — an senior woman who was banned from her local swimming pool after objecting to the presence of a male in the women's shower room.
Jaman, 80, had spoken at an August event in Port Townsend, Washington, which was organized by Sousa and RevFoxxUSA in response to Jaman's ban from the local YMCA. During the event, Jaman and the other pro-woman demonstrators were hackled and shouted down by trans activists, one of whom even ripped down a suffragette flag.
Reports of violence against women organizing for their sex-based rights has seen a definite uptick over the past year.
In both July and August, lesbian activists in Germany were physically assaulted by trans activists for holding signs displaying the definition of lesbian as "female homosexual."
During the July incident, trans activists heckled and harassed the women, and at one point a masked man rushed a young woman who had been holding a lesbian pride flag and put her in a headlock, wrapping his arms tightly around her neck and strangling her.
During a protest against sex trafficking held in Paris on International Women's Day, members of L'Amazone, as well as Osez le Féminisme and Résistance Lesbienne, all groups who are known for their strong stances in favor of women's sex-based rights, were assaulted seven times in the span of just 20 minutes by trans and "queer" activists.
---
Reduxx is a newly-launched independent source of pro-woman, pro-child safeguarding news and commentary. We're 100% reader-funded! Support our mission by joining our Patreon, or consider making a one-time donation.