A second female inmate at the Edna Mahan Correctional Center for Women has come forward to slam policies placing biological males in her facility, and reveal the hardships survivors of sexual trauma like herself have had to endure since their arrival.
"In my 23 years of incarceration here at Edna Mahan… I've never seen anything like the traumatic damage that's been going on. The state needs to find a place specifically for transgender [people]."
Dawn Jackson, 51, spoke exclusively to Reduxx about how life has changed since trans-identified males have begun flooding into Edna Mahan in wake of the ACLU lawsuit last year.
"Personally speaking, I have succumbed to a point where I mentally and emotionally cower when in the presence of some of the trans-identified males housed here in prison with me," Jackson says, "I've had to mentally rearrange myself since having no choice… being subjected to live amongst the opposite sex."
Jackson described how the dynamics have changed dramatically within the institution since the arrival of the male inmates, with many women jumping to appease them out of what Jackson says is fear of being victimized. She recounts one example of a female inmate who began serving a trans-identified male transfer after he 'caught' her expressing concerns about him.
"[She] was on the phone explaining to her family how she was upset about the new trans-identified male being placed in the unit that day. The [man] who was 6'7 tall overhead the young lady expressing her concerns and waited for her to get off the phone," Jackson describes, continuing: "The trans-identified male waited for her to get off the phone, just to tower over and approach her. As a result of that, the young lady buckled, feeling she had to explain herself. She started cooking for [him], sharing her JP6 tablet… The young lady was intimidated was what she was. I couldn't help but feel sorry for her. I understood her fear of somehow needing to survive the possible unknown repercussions."
Jackson says it was her past sexual traumas that made her particularly sensitive to the arrival of the male inmates.
"The moment I found out that [trans-identified males] were coming to Edna Mahan, along with discovering that they were still equipped with their manhoods, that truly did something to me psychologically."
Jackson recounts an incident earlier this year in which she was confronted by a trans-identified male who was angry at her for not talking to him enough.
"Immediately, I cowered because of the intimidation I felt from this person. Had it been just one of my female peers to approach and confront me, I wouldn't have felt that wave of fear on the inside of me. There was no equality between us; only man against woman," She says, "I remember stuttering, trying to give my answer. I felt obligated to answer. All I saw standing in front of me was a man. And the sad part about it, along with being approached, I was doing everything possible to not show the fear I always felt as a battered woman who'd no choice but to submit."
Jackson, a mother to 11 and grandmother of 20, is currently 23 years in to her 30-year mandatory minimum sentence, one handed down after she murdered her step-grandfather, Robert McBride, by stabbing in 1999.
Jackson tells Reduxx she had been the victim of repeat incestual abuse by the men in her family from the age of 5, some of which was so severe it resulted in her having damaged vaginal and rectal tissue, and required her to re-learn how to go to the bathroom as a child. Jackson graphically detailed many of the abuses she suffered, including at the hands of her own father.
McBride had been amongst those relatives who had frequently abused her, and Jackson explains that he had groomed her to perform oral sex on him at the age of 8.
"[He was] drunk most of the time. [He] would wake me and force me to sit up on the side of the let-out couch; position my face to his 'front,' forcing my mouth to his penis," Jackson recounts, "As a result of the constant abuse, I became pregnant at age 13 … I started running away from home on a regular basis."
On the day of the murder, Jackson says McBride had attempted to rape her.
"I was defending myself … from once again being that timid little girl who was forced into incest – having sex and performing degrading sexual acts beginning at the age of five."
But despite her lengthy history of being victimized, Jackson's public defender refused to mention her past ordeals as a potentially mitigating factor during her trial.
"The public defender in my case was never 'for me.' She spoke against me as though she were prosecuting me," Jackson says, noting that the attorney even went so far as to state that her experiences being victimized by McBride and others would serve "no purpose" in court.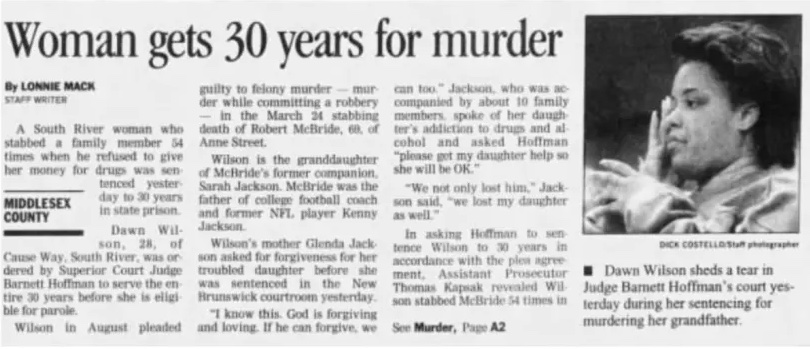 "Five male family members and one family friend had hands in abusing me for years. No way in hell should I have been sentenced to 30 years in prison," Jackson says.
According to a 2016 report from the Vera Institute of Justice, 86% of incarcerated women have a history of abuse and 77% have a history of experiencing intimate partner violence. Women's rights advocates have described this situation as a "sexual abuse-to-prison pipeline."
"I should not have to endure transgender [males] complaints of feeling 'discriminated' against just so they can have their way," Jackson says, "The ignorance of activists who [compare] my traumatic experiences to the validation of transgender people's identity is completely unfair. I never chose to be raped, sodomized and abused by men."
While sharing her thoughts, Jackson expressed disbelief at the trans activists who attacked Miseka Diggs, another incarcerated woman at her facility who spoke to Reduxx in May.
"The pain I endured, it affected and mattered very much to me," She says, "There's no way in hell those activists can compare the psychological traumas of being sexually, physically, mentally, emotionally and verbally abused to men who choose to 'identify' [as women]."
In 2020, Jackson's ordeal was featured on Kim Kardashian's Oxygen special 'The Justice Project,' where the mega-celebrity sought to help incarcerated people she felt needed to be released from prison due to the circumstances of their crime. Kardashian was also attempting to draw attention to the problem of mass incarceration in the United States, an issue that disproportionately impacts Black Americans.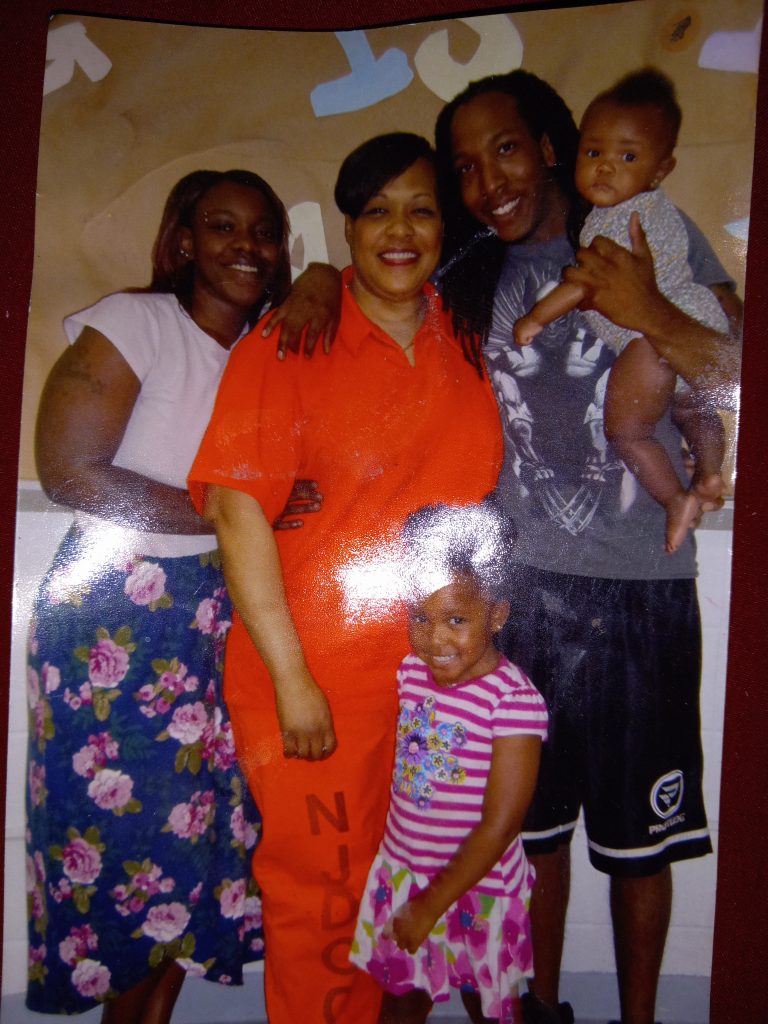 "When I read [Jackson's] letter for the first time, I cried … She detailed her abuse," Kardashian said during an interview at the time of filming her documentary, "But then to come find out that she couldn't be that open during her trial, and she couldn't reveal any of that. That was the reason why she did what she did — in defense, in snapping, in being abused … You can understand her journey and feel her pain, but how the system failed her and made her out to look was just not fair in my eyes."
Since her incarceration 23 years ago, Jackson tells Reduxx she has worked hard on bettering herself and preparing for life beyond bars.'
"I have successfully completed approximately 67 institutional programs, and obtained both my High School Diploma and an Associates Degree," Jackson reports proudly, noting that she's also been facilitating multiple Narcotics Anonymous programs for her fellow inmates.
In February of 2018, Jackson applied for clemency with the office of New Jersey Governor Phillip Murphy, requesting for the remaining 6 years of her sentence be commuted. Her youngest daughter, Jhordin, set up a petition in an attempt to help her mother get a response from the Governor's office. As of June 6, it has over 13,400 signatures.
Reduxx reached out to the Governor's office for comment on Jackson's clemency application, but did not hear back in time for publication. This article may be updated in the event the office responds.
---
Reduxx is an independent source of pro-woman, pro-child safeguarding news and commentary. We're 100% independent! Support our mission by joining our Patreon, or consider making a one-time donation.