An inmate at New Jersey's Edna Mahan Correctional Facility for Women (EMCFW) is speaking out against the transfer of trans-identifying male convicts into the facility.
Speaking with Reduxx, incarcerated woman Miseka Diggs explained that the female inmates in EMCFW are "scared to death" of the men. Under the current policy, the men do not need to undergo any surgery, and Diggs asserts that most of the men are not on hormone replacement therapy. She stated that a majority of women incarcerated at EMCFW have past trauma, with many being victims of male violence, and the presence of men in the facility is causing them severe distress.
According to a 2016 report from the Vera Institute of Justice, 86% of incarcerated women have a history of abuse and 77% have a history of experiencing intimate partner violence. Women's rights advocates have described this situation as a "sexual abuse-to-prison pipeline."
"It is like you are living in an abusive situation. I have anxiety that I never knew about," said Diggs. She explained that she had been visiting the mental health services to address the ways in which the presence of violent men in the women's facility was bringing up her own feelings related to her past.
According to Diggs, women who complain of feeling unsafe are placed in protective custody.
"We can't express our feelings in fear of being put in protective custody, [which] is like lock-up. If you use the wrong words you will be uprooted and removed from your living quarters. So many women walk around in fear," Diggs said.
"We feel like we are part of some sick joke. This is a nightmare that we can't wake up from," she added. "The women here are traumatized over and over again and it seems as if no one cares about our needs. We feel like second-class citizens with no rights."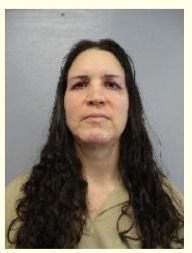 Diggs described her anxiety at having to share a shower with one of the male transfers, whom she identified as Nikita Selket. Selket, formerly Neil LaBranche, is a 6′ 7″ man serving a thirty-year sentence for the murder of his roommate in 1995. The New Jersey Department of Corrections has recorded LaBranche as "female." He is one of 27 men who have been transferred into the women's facility since last year. The decision was the result of a legal settlement between state officials and ACLU New Jersey.
"When [LaBranche] came in and got into the shower next to me I felt violated in every form possible! I couldn't believe that I was showering with a person with genetic male parts," Diggs said. LaBranche is allegedly also watching women as they shower, with a "smile, as if [he] liked what was happening."
The first male inmate transferred to EMCFW was Perry Cerf, who uses the name "Michelle Hel-loki Angelina." As previously reported by Reduxx, Cerf is serving a 50-year sentence for the murder of Ecuadorian immigrant Flor Andrade. He accepted a longer sentence to have his rape conviction removed from his record.
"Going to prison on a sex charge would be a safety concern for me," Cerf said at the time. He boasted of drinking the woman's blood after killing her. Cerf was later found wearing her clothing, driving her car, and had placed his own photograph over hers on the victim's identification.
Diggs told Reduxx that the day Cerf was transferred into the facility, she witnessed him being escorted by approximately 15 guards. As he was being moved down the corridors, she saw him attempting to kick down doors to women's cells. While incarcerated in the men's facility at New Jersey State Prison, Cerf assaulted other male inmates and at one point was placed in solitary confinement for 23 hours each day.
"The day [Cerf] hit EMCFW was very somber. No one knew what to think. The compound was locked down and we saw 15 officers in swat gear walking with this individual. The officers were on high alert as well, because this individual has a reputation in the men's facility as a problem."
Diggs went on to say that during altercations with the women, several trans-identifying transfers have reminded them that they are men in order to threaten them.
"This is a behavior and [statement made] by most of the transgenders. 'I am a man and I will knock you out,'" she said.
Moreover, some men have identified into the prison, only to identify out again. "I know of two transfers that went back to the male prison on their own. They identified as trans, came here for whatever reason, and then decided they wanted to go back to the men's facility. They were sent back. That is exactly where the problem lies: they come and go as they please."
In 2021, a transgender inmate who successfully fought to be transferred to Edna Mahan demanded to be sent back to a men's institution — citing the abuse female inmates suffered at the hands of correctional staff. Rae Rollins claimed the systemic violence at Edna Mahan made him feel "unsafe."
Speaking on the settlement between state officials and the ACLU, Diggs remarked that she believed women's rights were being "tossed out the window" in order to secure votes and political careers.
"As I sit back and play everything over in my head the conversations that I've had with the Commissioner, administration, lawyers, and reporters, I came to the conclusion that this is all about politics at the end of the day. The women here are caught up in the game of politics and it is sad."
"The women that were sentenced to the only female prison in the State of New Jersey didn't get sentenced to be housed with people that prey upon them and manipulate them, and [serve as] triggers of the trauma that put them here."
Last month, the New Jersey Department of Corrections confirmed that two female inmates had become pregnant in the women's estate following sexual encounters with at least one of the trans-identifying male inmates housed there.
---
Reduxx is a newly-launched independent source of pro-woman, pro-child safeguarding news and commentary. We're 100% reader-funded! Support our mission by joining our Patreon, or consider making a one-time donation