Collective Shout campaigner Lyn Swanson Kennedy has uncovered troves of child sex abuse dolls on leading e-commerce platform Made-in-China. The dolls were modeled on the bodies of little girls, including toddlers, and the smallest was just under 3 feet tall.
At least one child sex abuse doll manufacturer on Made-in-China offered to customize dolls based on a customer-supplied photo of a child. In addition to customizable skin color, eye color, hair, foot function and genitalia options – all of which is not uncommon – the seller assured potential buyers that their "professional doll mould team" could accommodate their request for a doll made in the likeness of a specific girl.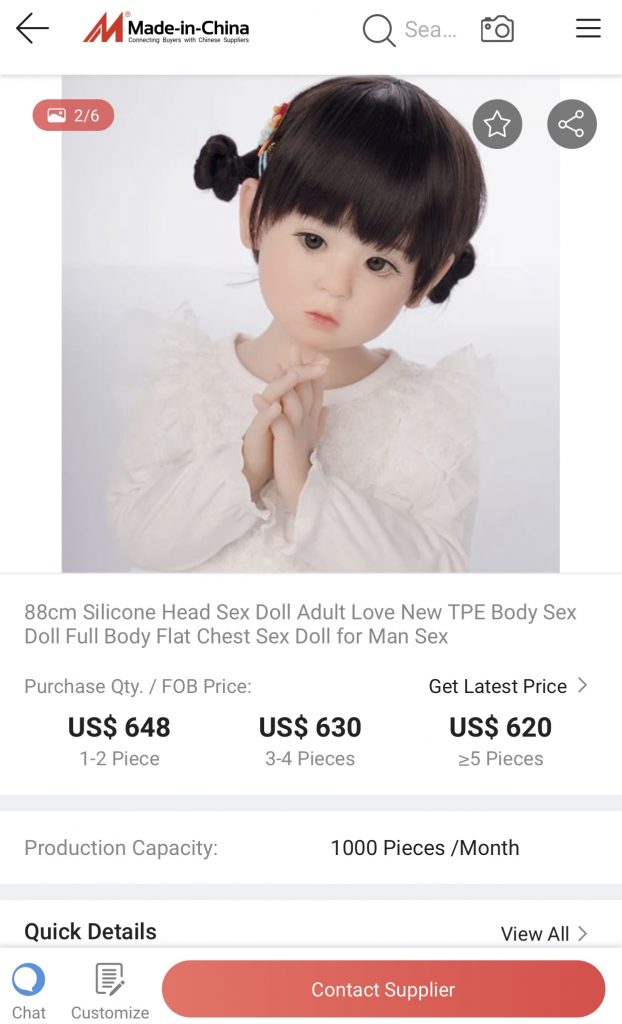 Lyn exposed Made-in-China on Twitter, and as a result of the backlash, the child sex abuse doll listings have since been removed. But the question still remains of how many of these dolls were modeled on actual girls?
While researching the trade in sex dolls, I have documented a number of doll manufacturers who not only customize dolls, but encourage potential buyers to send in a photo of the woman or child they want their doll to resemble. I've read the accounts of women who have discovered sex dolls made in their likeness (sometimes even given their name, too). I've witnessed conversations on pedophile forums where men discuss their use of dolls modeled on girls in their care.
The customization of child sex abuse dolls in the likeness of specific girls poses a serious threat.
In 2020, Child Rescue Coalition published the account of an American mother named Terri whose eight-year-old daughter Kat, a child model and pageant contestant, had her likeness stolen and turned into a child sex abuse doll. Terri had received images of the doll sold on Amazon from a friend via a message on Facebook, and when she opened them she was shocked to discover they looked like her daughter. One picture appeared to recreate a photo she had shared to a Facebook group.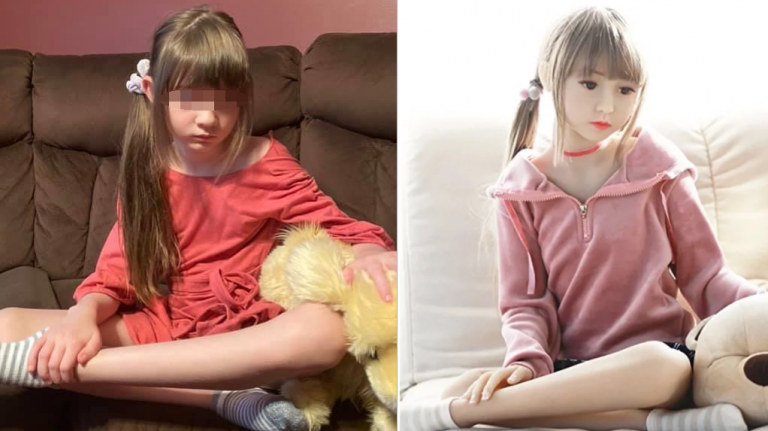 Terri told Child Rescue Coalition that the doll in the image had the same facial features and pose as her daughter, that it was dressed in the same sweatshirt and socks, and was photographed alongside a stuffed animal as seen in the original image.
"I read the message from my friend and saw the image, and I instantly started to cry uncontrollably. I was completely overwhelmed with a mix of emotions that I've never felt before… I couldn't imagine that some sicko would use my daughter's photo to create something so ugly and evil to be used for abuse by pedophiles."
An investigation spearheaded by Melinda Liszewski of Collective Shout exposed Etsy sellers producing child sex abuse dolls modelled on actual children. When Liszewski posed as a potential buyer, one seller told her a certain doll was modelled on a 14-year-old Instagram model.
Liszewski then sent the seller computer-generated images of non-existing girls and asked the seller if they could produce dolls made in their likeness, to which the seller agreed.
Pedophiles are celebrating the prospect of sex dolls and robots modelled on specific children. One participant on a 4Chan board where users were exchanging images of little girls even expressed his desire for a sex robot made in the likeness of a specific child model on Instagram.
In a thread on a separate pedophile forum, child sex abuse doll manufacturer and creator of The Doll Orphanage, Bram Joosten, quoted a potential buyer $6,000 to produce a sex doll modeled on photos of a specific little girl. "Babies [and] toddlers are just so chubby I can't help but melt," the customer gushed.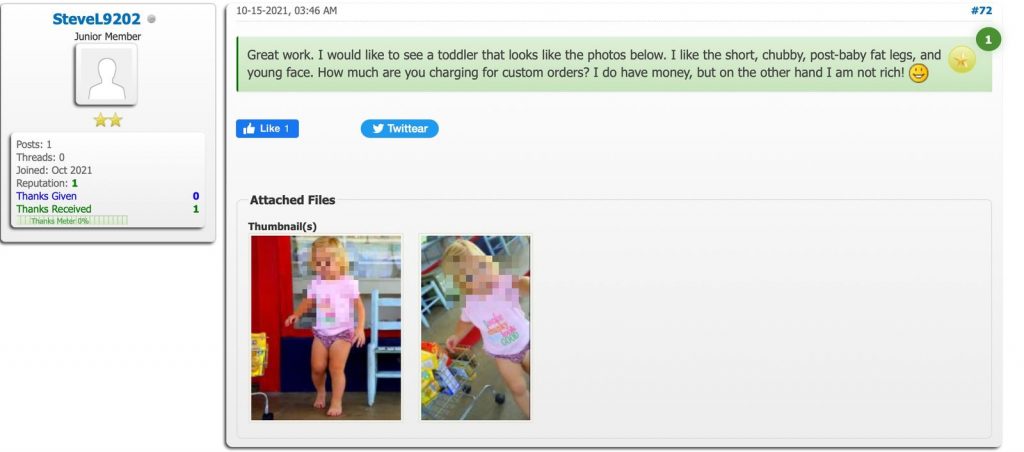 Joosten was also found to be selling explicitly realistic dolls of babies which came complete with penetrable genitals.
Despite what doll advocates, pedophiles and their sympathizers claim, creating replica children for male sexual pleasure is not a victimless industry.
Child sex abuse dolls facilitate a new form of technologically-mediated child sexual abuse, one where men can enact their fantasies of rape, abuse and torture of specific children using customized dolls.
Customizable child sex abuse dolls allow men to enact their fantasies of raping and abusing children despite physical distance – to violate children without ever having access to them, without even knowing them or having ever come into contact with them. Pedophiles can download photos of girls shared on social media, or take a photo of a child in a public place with their smartphone, and commission a sex doll in their likeness.
While a few countries and states have implemented laws against child sex abuse dolls, there is still a long way to go.
Uniform, global laws criminalizing the manufacturing and import of child sex abuse dolls do not currently exist, and some pedophile-sympathetic groups like Prostasia have made headway campaigning on the concept that child sex dolls are "harmless" and could even provide a "therapeutic" outlet for pedophiles.
Disturbingly, an academic who agreed with Prostasia's ideas on providing pedophiles "fantasy outlets" for their abusive desires was just hired at the Moore Center for the Prevention of Child Sexual Abuse, demonstrating just how widespread the push for normalization has become.
---
Reduxx is your independent source of pro-woman, pro-child safeguarding news and commentary. We're 100% reader-funded! Support our mission by joining our Patreon, or consider making a one-time donation.