A Dutch national responsible for manufacturing toddler- and baby-like sex dolls he claims are "therapeutic" for pedophiles has called for self-identified "minor-attracted people" to join him in an unnamed location in Africa for the purposes of having their sick desires "protected."
Bram Joosten, a native of Bennekom, Netherlands, recently advertised "protection services" in a video titled "How to be safe and happy as a pedophile."
In the promotional video, posted June 14 to a website owned by Joosten called Doll Orphanage, Joosten encourages pedophiles to relocate to Africa in order to "start a new life where you as a MAP can be safe, content and happy."
Joosten was previously located in Ukraine, but explains in the video he moved to a nation in Africa after experiencing backlash for his pedophilic activities.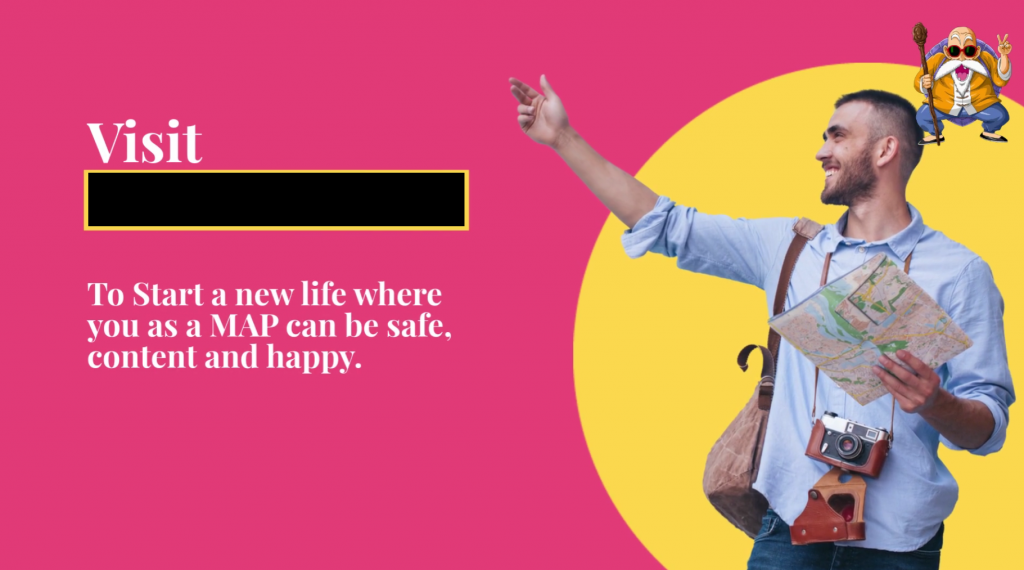 "This service is for people… who permanently want to move to a place where they are safe, protected and where they can get everything they ever dreamed of. It's a paradise," writes Joosten. While he goes on to say that "this service does not include prostitution or helping you hook up with minors," Joosten does state that he will seek out young women who "resemble minors" for interested clients. In the video promotion, "beautiful girls" are mentioned as a benefit of living in Africa.
"Finding girls is not hard since white privilege is still a thing here," Joosten states. "People see and treat you as a God… I understand it if you prefer petite girls and it doesn't matter if you want to date a girl that looks like a minor, as long as she is not an actual minor."
Joosten advises site visitors that should they relocate to the unspecified nation in Africa, "importing things such as [child-like] sex dolls" can be done without risk of punishment "since it's very easy to bribe people."
He also claims to be able to personally assist potential clients with convincing customs officials to allow the importation of child abuse materials.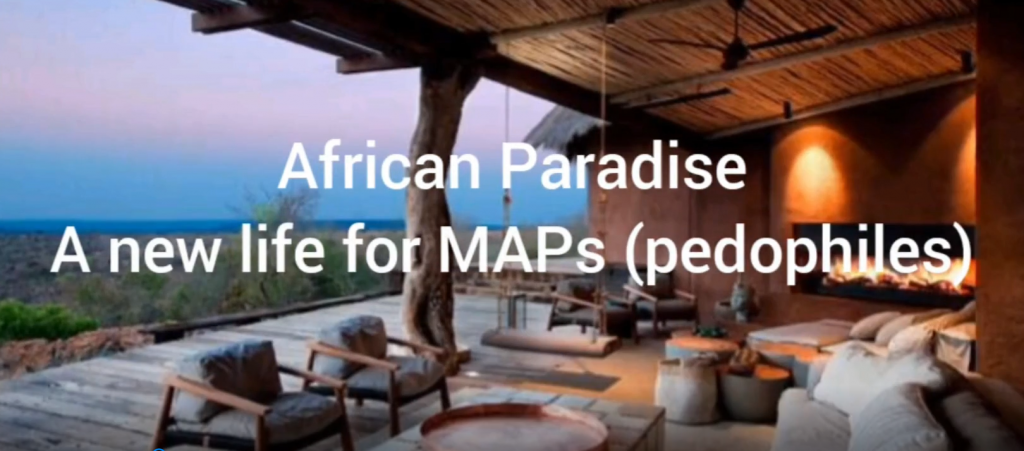 Joosten also claims to offer security services, referring to himself as "a guide and protector" of pedophiles. The entire package deal described on Joosten's site is priced at $5,000, which includes "importing of loli sex dolls … finding perfect partner," and the opportunity to join "a community of like-minded people."
"Loli" is a term which refers to female child-like characters popularized by Japanese animation, but has become synonymous with pedophilic depictions of sexualized young girls.
On the site affiliated with the African "paradise" packages, Joosten also hosts videos of men having sex with dolls in the likeness of small children.
Joosten operates several sites, including Doll Orphanage, which he once advertised ownership of on his public Facebook profile. Many of the sites had Joosten's personal email address linked to them, one associated with a defunct fitness company he once ran, making him easy to identify despite the fact his name often doesn't appear directly on the sites.
The majority of the sites are marketplaces which feature his disturbing toddler and infant sex abuse dolls. Joosten takes responsibility for being the first manufacturer to create penetrable masturbation devices intended to look like human babies.
A product sold as "TPE Baby" is described as "The first detailed, high quality baby sex doll on the loli doll market." The doll's vaginal depth is measured, before reading "Please note that she does not have oral or anal function. She is too small for those functions."
The sick doll, which Joosten proudly proclaimed was the first of its kind, sells for $800 USD, with an even more life-like silicone counterpart being offered for $1,500. The extra cost gets perverted buyers hyper-realistic eyes, hair, skin coloring, and genitalia.
Most of Joosten's sites provide the same merchandise under different brand names, and most are hosted on the Shopify platform, which recently banned a women's rights activist for selling her crafts under an accusation she was promoting "transphobia."
On one of Joosten's blog posts for his Loli Dolls store, he argues that baby and child-like sex dolls are "therapeutic" for pedophiles. In the post, he writes "Loli dolls have a child-like shape which makes them attractive for people who feel sexually attracted to minors (pedophiles)," continuing: "… relationships with humans can be quite shallow and not satisfying at all. It's not easy at all to find true love or a person that genuinely cares about you. If you are a pedophile then it's even harder."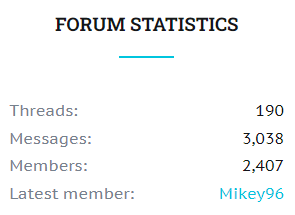 In addition to selling child-like sex dolls and operating blogs which discuss them, Joosten also administrates multiple forums associated with his websites where pedophiles are free to gather and discuss details about both the dolls and "loli" culture.
Joosten was previously a member of All the Fallen ⁠— a pedophile website dedicated to hosting chatrooms and fictional stories eroticizing child molestation ⁠— but apparently left the website after receiving criticism that his infant sex dolls were not realistic enough.
The recent video by Joosten encouraging pedophiles to relocate to Africa directs viewers to one such site he created that hosts a forum with over 2,400 members.
On the forum, members upload 3D and illustrated child sexual abuse materials, recommend child sexual abuse patches for video games, and share their pedophilic fantasies. In a thread titled "Age Range Preference," users discuss which ages of minors they sexualize.
"All are fine, but babies to toddlers are just so cute and chubby I can't help but melt. So 0-5 would be my favorites," wrote one site member.
In one of Joosten's forum threads on "Toddler Dolls," a user describes having a young daughter who stumbled upon one of his child sex dolls, and how he convinced her to "keep it a secret."

Later on in the thread, another user posts photos of a real toddler girl, and asks Joosten to price out a custom replica of a sex doll of the child, writing "I like the short, chubby, post-baby fat legs and young face."
Joosten responds that a bespoke doll of the girl could cost up to $6,000.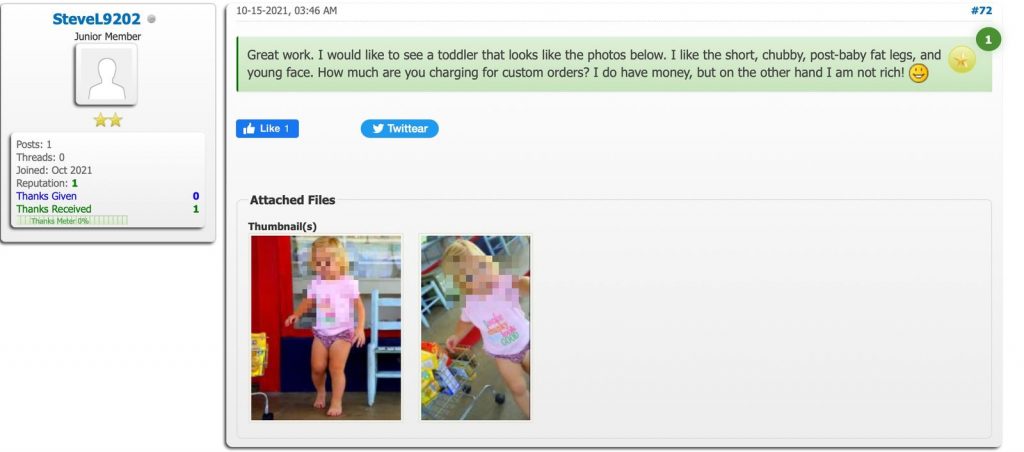 Reduxx can confirm the child is a model for children's clothing, and appears to be in no immediate danger.
Joosten's arguments that child-like sex dolls can be "therapeutic" for pedophiles are hardly isolated, with many academics, organizations, and professionals working to normalize the concept of "fantasy outlets" for pedophiles.
James Cantor, a Canadian psychologist and neuroscientist, has claimed that prohibiting the use of child sex dolls amounts to "blocking harmless ways of masturbating," and may cause sex offenders to become desperate and therefore more likely to offend. His theory has been pushed by US-based organization Prostasia, which uses it to campaign against laws criminalizing child sex dolls.
In addition, Reduxx recently reported on a Norwegian professor of ethics who suggested that pedophilia be taught in schools as a sexuality and advocated for legalizing "fictional" child sexual abuse materials.
Yet despite the growing popularity of the idea amongst those who sympathize with pedophiles, there is no conclusive research to suggest that such a strategy would prevent offending.
In 2019, Australian criminologists reported that child-like sex dolls have a number of negative outcomes, noting the potential for an escalation in child sex offenses. Researchers Rick Brown and Jane Shelling wrote that child-like sex dolls "potentially results in the risk of children being objectified as sexual beings and of child sex becoming a commodity," and that desensitization may occur as the dolls are not capable of giving negative feedback.
Caitlin Roper, the Campaign Manager for Collective Shout, has also researched extensively into the impact of sex dolls and has come to similar conclusions. Her book "Sex Dolls, Robots and Woman Hating" will be released in August. In 2020, ABC News published her counter-arguments to the assertion that the dolls prevent sexual offending.
"I cannot help but conclude that the academic arguments in support of child sex dolls are baseless, unconvincing and are open to being hijacked by vested interests," Roper wrote. "They prioritize men's sexual preferences over the rights of girls. Academic advocates fail to consider the gendered dynamics involved in the production of female-bodied child dolls for adult men's sexual use, or to situate their development within a cultural context of gender inequality," she argued.
"If child sex dolls function as advocates claim, they will maintain pedophiles' sexual urges for children. Rather than encouraging restraint or investing energy into pursuing healthier relationships or sexual practices, child sex dolls enable the realistic fantasy experience of sexually abusing a child."
Her sentiment has been echoed by many child protection agencies and advocates. Jon Brown, head of development at the UK-based charity The National Society for the Prevention of Cruelty to Children (NSPCC), has said that "there is a risk that those using these child sex dolls or realistic props could become desensitized and their behavior becomes normalized to them."
Joosten was reported to European Union authorities in 2021 by writers now associated with Reduxx, but it is unclear if any investigation has been launched into his activities.
---
Reduxx is your independent source of pro-woman, pro-child safeguarding news and commentary. We're 100% reader-funded! Support our mission by joining our Patreon, or consider making a one-time donation.