Social media users have called for the UK-based trans activist charity Mermaids to be shut down following an announcement that the Tavistock Gender Identity clinic will close its doors by Spring 2023.
On July 27, it was announced that the National Health Service's only gender identity clinic that provides medical transition services for children will close. The news followed a damning investigation into the Tavistock's Gender Identity Development Service (GIDS) that was released in March of this year.
The review was the result of multiple whistleblowers coming forward with concerns about the clinic and its minor patients. Some said they felt Tavistock was engaging in gay conversion therapy for pursuing heavy-handed gender-based solutions and ignoring co-morbidities — such as autism — or sexuality conflicts.
The Cass review, independently performed by Dr. Hilary Cass, found that clinic was failing children. The review found that other mental health concerns were being overshadowed and going untreated. Dr. Cass also noted the lack of evidence of quality supporting the use of puberty blocking drugs.
"We cannot be sure about the impact of stopping these hormone surges on psychosexual and gender maturation. To date, there has been very limited research on the short, medium or longer-term impact of puberty blockers on neurocognitive development."
The review even suggested that there was research to suggest puberty blockers may affect brain development.
"Brain maturation may be temporarily or permanently disrupted by puberty blockers, which could have significant impact on the ability to make complex risk-laden decisions, as well as possible longer-term neuropsychological consequences," Dr. Hilary Cass stated.
The Cass review mirrors a study which was presented as evidence in the case of Bell v. Tavistock which asserted the "puberty blockers" Keira Bell had been given resulted in memory loss and developmental delays even after stopping treatment. In 2021, Bell, a detransitioner, penned an article discussing her experience with Tavistock, and noted the clinic only sought to 'affirm' the gender identity issue she was having, and did not properly asses her for any additional mental health concerns.
"When I was seen at the Tavistock clinic, I had so many issues that it was comforting to think I really had only one that needed solving: I was a male in a female body. But it was the job of the professionals to consider all my co-morbidities, not just to affirm my naïve hope that everything could be solved with hormones and surgery," Bell wrote.
Bell's long-fought case resulted in the temporary suspension of the administration of puberty blockers to youth under the age of 16, but this decision was overturned on appeal.
Following the announcement of the planned closure of Tavistock's GIDS, #Mermaids began trending on Twitter. Feminist academic Dr. Kathleen Stock tweeted, "Mermaids must fall next" shortly after the announcement. Her tweet gained 7,900 Likes at the time of writing.
Mermaids is a UK registered charity which claims to support "transgender, nonbinary and gender-diverse children, young people, and their families." Established in 1995, Mermaids advocates for an affirmation only approach to gender dysphoria in young people and promotes the use of puberty blockers, cross sex hormones, and surgeries even for minors.
Many blame Mermaids for putting pressure on NHS staff to prescribe puberty blockers and cross sex hormones to children with gender confusion.
Sue and Marcus Evans were two of multiple whistleblowers who raised concerns about Tavistock's GIDS. In an interview, Marcus Evans, a Psychoanalyst and formerly a Consultant Psychotherapist and Associate Clinical Director of Adult and Adolescent Service at the Tavistock and Portman NHS Trust, explained the close relationship between Mermaids and the clinic. Evans described the relationship as "unusually close" which "interfered with the ordinary clinical environment."
One former clinician at Tavistock also said that the narrative from Mermaid was "everywhere [within the service]," continuing: "Mermaids are always saying this is a matter of life and death. 'Would you rather an alive boy or a dead girl?'"
While Mermaids boats of puberty blockers being a "temporary" and "safe" way to pause development while a child determines what gender identity suits them best, the Cass review told a very different story about the drugs. The review noted that children prescribed puberty blockers were on a medical pathway to cross sex hormones, with very few desisting to complete their natural puberty.
A 2008 Dutch review of medical literature found that 64% of children who did not go on hormone blocking treatment desist or stop seeking treatment. The Cass review also concluded that putting a child on puberty blocking hormones meant they were almost certainly going to go onto cross sex hormone treatment.
Dr. Marci Bowers, a leading sex reassignment surgeon, admitted that children who are put on puberty blockers and who later go on to cross sex hormones will never be able to achieve an orgasm as adults if they had not done so prior to starting their hormone treatment.
Hormone blocking treatment is also said to prevent a persons genitals from developing, leaving them with stunted sex organs. For boys, this makes future genital reassignment surgeries more complex, something the CEO of Mermaids, Susie Green admitted had affected her own son in a 2012 documentary.
"There wasn't much there to work with," Green said in reference to her son's vaginoplasty.
Green had taken her son to America for "puberty blockers" before they were legal in the UK. When he was 16, she took him to Thailand for sex reassignment surgery due to it having been illegal in the United Kingdom for minors.
While Green insists her son's transition was his choice, a Ted Talk Green gave in 2017 has some LGB activists concerned as she seemed to suggest her son had been put through a form of conversion therapy.
During the presentation, Green confessed that her now ex-husband had disciplined her son for playing with toys associated with girls as a toddler.
"Jack's dad did not approve of our child's effeminate behavior," she explained, "Then all the "girl toys" or "girly toys" as such were taken away and put away, and Jack was made aware that this was not appropriate. And suddenly, a confident, happy little boy became quite quiet, withdrawn, very clingy, and tearful." She continued. Shortly after, her son began to say he wanted to be a girl.
Green reached out to Mermaids for support, and would become so active within the organization she would later become the CEO.
It is known that Green held regular meetings with GIDS senior management, and campaigned for puberty blockers to be prescribed, and for Mermaids to be advertised as a recommended resource on the GIDS website. Green was also listed as a contributor to the development of the World Professional Association for Transgender Health's Standards of Care guidelines on children despite having no clinical qualifications. A two-part Reduxx investigation conducted in May found that the WPATH guidelines were also influenced by pedophilic castration fetishists.
As well as recommending medicalization to children and their families, Mermaids has also been found to have referred youth to a private healthcare service — GenderGP.
Dr. Michael Webberley of GenderGP was recently found guilty of recklessly prescribing puberty blockers and cross sex hormones to patients as young as 9.
Amongst the ethical violations that were uncovered about his practice was a case wherein he had prescribed hormone replacement therapy to a 17-year-old girl with autism "when it was not clinically indicated, and without establishing whether the risks were lower than the risks to the patient's mental and physical health." The patient tragically took her own life 3 months later.
Mermaids has since removed GenderGP from their website, but discussions about the service have continued to be found on the Mermaids website forums since then.
On July 29, Dr. Helen Webberley announced on twitter that GenderGP will "take up the slack" and continue to provide puberty blockers to minors even if the NHS stops providing them due to concerns about their safety.
Dr. Webberley was recently suspended from her medical practice for putting three girls (aged 11, 12 and 17) at "unwarranted risk of harm" for failing to follow up with them after providing hormone treatments. She also failed to explain the risk of fertility complications the treatments may cause to the 11 year old girl. Dr. Webberly was previously convicted of running a medical agency without being registered in 2018.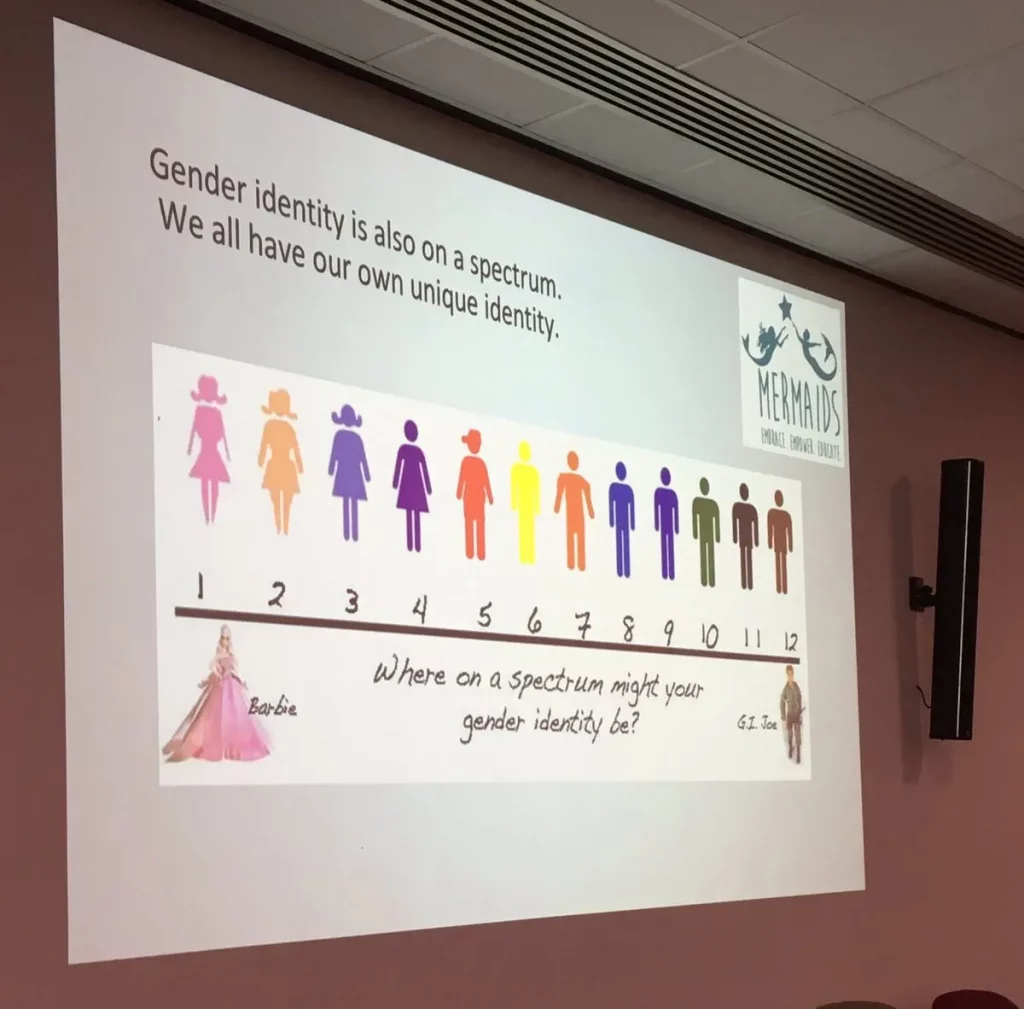 In addition to the GenderGP scandal, Mermaids received significant backlash on social media in 2020 after their educational programs were leaked. Mermaids staff had carried out training in 40 schools funded by the Department of education. During the training, they used a graph to explain the "gender spectrum," which showed a barbie on one side and a GI Joe on the other.
Audio of the training session was also released online, during which the training provider referred to girls as "barbies" and boys as "GI Joes."
Once information about the sessions began to circulate, many were quick to point out that it appeared to teach children that playing with toys of associated with the opposite sex would make them "transgender," potentially leading them down the medical pathway.
Following backlash, Mermaids released a statement saying "no teacher has ever been encouraged by any LGBTQ+ organization to state that 'tomboys' should be transgender," but went on to state: "Due to the gendered society in which we live, transgender children can sometimes express their gender identities through toys and clothes along with many other factors."
Currently, Mermaids is in the process of suing the United Kingdom's charity commission for awarding charitable status to LGB Alliance, an organization centered on advocating for the rights of same-sex attracted people.
Crowdsourcing the effort, Mermaids has raised over £73,000 to fund the legal campaign. LGB Alliance and Mermaids differ ideologically on their position about the correct pathway for children with gender dysphoria. LGB Alliance advocates have asserted that many gay people display gender nonconformity as youth. They state that medicalising children with gender dysphoria is a form of gay conversion therapy.
"It's a scandal that the majority of young people referred to gender clinics and subsequently prescribed puberty blockers are same-sex attracted. This is homophobic in the extreme and must be tackled. There has been a 4,000% increase in the number of girls referred to clinics and we want the government to consider how social contagion, the influence of the pharma industry and homophobia is persuading children, many of them girls, that their same-sex attraction is a sign that they must 'really' be boys." LGB Alliance state on their website as part of their "Gay teens aren't sick" campaign.
On social media, many users have thrown their support behind LGB Alliance in the legal effort, with some calling for Mermaids to have their charitable status revoked rather than LGBA.
With the closure of Tavistock's gender identity service, Dr. Cass recommended the creation of a network of regional services to provide care and support, a recommendation accepted by the NHS.
Although many celebrate the news of the closure, others worry that political lobby groups like Mermaids will infiltrate and influence any new services established to treat children experiencing distress with their sex.
---
Reduxx is a newly-launched independent source of pro-woman, pro-child safeguarding news and commentary. We're 100% reader-funded! Support our mission by joining our Patreon, or consider making a one-time donation.