A former social worker at a Manhattan senior shelter has filed a lawsuit against her ex-employer, claiming she lost her job after she warned her bosses that a convicted serial killer had made threats against her life while she worked at the facility.
Monica Archer was let go from her position at George Daly House, a short-term housing alternative for elderly residents in Alphabet City, even after convicted serial killer Harvey Marcelin was charged with the brutal slaying and dismemberment of a former resident. Marcelin identifies as a lesbian woman, and often uses the name "Marceline Harvey."
The lawsuit, filed on Monday, concerned the shelter's decision to admit Marcelin, 84, who has been placed on lifetime parole after spending 50 years in prison for the homicide and dismemberment of two women.
According to an exclusive published in the New York Post, Marcelin "made constant threats to kill" Archer and other personnel, and was permitted to keep a gun on the premises.
Archer had suggested to her supervisors that Marcelin be transferred to a facility specializing in mental health disorders, but was ignored. She had also recommended Marcelin be placed in an "appropriate setting for the serial killer who has issues that I can't address."
But Archer says that management continued to allow Marcelin to reside at the shelter, despite "knowing that [he] had been accused of and convicted of several murders, allegedly possessed a gun, and regularly threatened to kill staff members."
Marcelin had also reportedly begun following Archer after she left work for the evening, leaving the social worker so frightened that she began using alternative routes to commute after work.
Despite Marcelin's "erratic" and "dangerous" behavior, he was released from the senior care shelter to live independently. Yet Archer remained troubled by his behavior and filed a complaint against the facility with the US Occupational Safety and Health Administration for exposing her to risk.
She alleges that management then retaliated against her, putting her on janitorial duty and refusing to let her work remotely.
On March 4, just one week after moving into an apartment, Marcelin was arrested for the grisly murder and dismemberment of Susan Leyden, 68, who had been a former resident at the same senior facility.
Leyden's body was found in pieces scattered across the neighborhood, with parts being found on two separate days. Her headless torso was found by a passerby in a shopping cart blocks away from Marcelin's apartment on March 3, prompting police to question Marcelin on the gruesome discovery.
Two months after Marcelin was taken into custody, Archer alleges she was fired for insubordination, a move she says was punishment for raising the alarm in the first place.
"To the detriment of the public, when [Marcelin] was placed into society in [his] own apartment, [he] allegedly murdered a former resident no more than a week later, clearly inapposite to the best interests of public safety," the lawsuit reads.
The news that Marcelin had been charged with homicide came as "no surprise" to Archer, according to the suit.
Prior to the murder of Susan Leyden, Marcelin was well-known to police, having been convicted in the brutal deaths of two other women on two separate occasions.
In 1963, Marcelin was arrested for shooting his then-girlfriend Jacqueline Bonds three times inside their Manhattan apartmet. He was sentenced to 20 years to life and was paroled in 1984. After his release, he went on to stab another female sexual partner to death, stuffing her corpse in a garbage bag and then dumping it on the street near Central Park.
Marcelin was arrested in 1986 for the second murder, but was once again released on parole in 2019. At the time, he told a parole officer that he had "a problem with women."
Prior to the murders, Marcelin was accused of attempted rape when he was just 14 years-old; the allegation was made by a girl aged 8.
A 1963 psychiatric examination conducted by three doctors at Bellevue Psychiatric Hospital concluded Marcelin had "schizoid personality with sociopathic features" but was not deemed criminally insane nor psychotic. A hospital record from 1962 suggested he may have had "delusional grandiosity," "suggestions of chronic schizophrenia" and "paranoid reaction personality."
Marcelin began identifying as a woman while at Auburn State Prison for his second slaying, and started taking Premarin, a type of estrogen intended for post-menopausal women, after meeting trans-identified male inmate at the facility. The killer appears to treat his "male" and "female" personas as two separate entities. In an interview he gave to the New York Post earlier this year, Marcelin claimed it was his "male" persona that was responsible for his history of crime.
"Harvey's not a good guy, he's a tough guy," Marcelin said, "Marceline's nice and gentle and loving, you know, lots of laughter, fun to be with. She's the one who's perfectly normal."
Marcelin appears to have become acquainted with Leyden shortly after being paroled in 2019.
One of his many Facebook profiles reveals that he had communication with Leyden around that time, and appeared to become somewhat obsessed with her, using her photos in place of his own.

In October 2021, just months before murdering Leyden, Marcelin responded to her on Facebook with the comment, "Love personified."
Yet a few replies made from Leyden's Facebook account suggest that the feeling was far from mutual.
In November 2020, Marcelin uploaded a picture of a young blond woman as his main profile photo, the identity of whom is unknown. Beneath the photo, Leyden commented: "That is not a picture of Marceline Harvey… [he] is nice but crazy… Marcaline [sic] is a freak."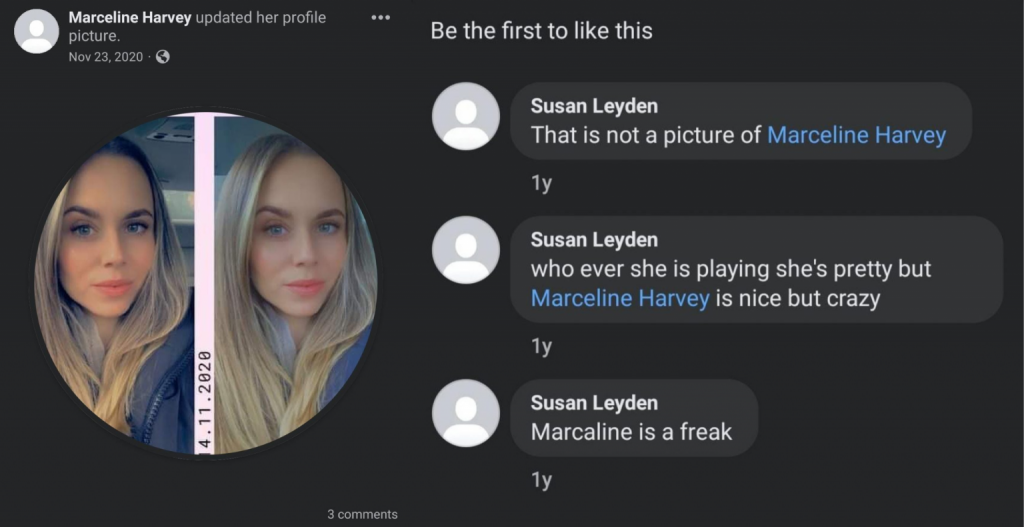 Archer was not the only woman to raise concerns about Marcelin prior to the murder of Susan Leyden.
In July, a nurse who works intake for a shelter in the Bronx spoke to the New York Times and revealed she had great concerns about Marcelin being allowed access to the women's section of the facility.
Anne Brennan questioned whether Marcelin should be permitted to reside in the women's area of the shelter, but was told by her supervisors to grant Marcelin entry.
"Apparently his feelings and identity were far more important than all the other women that were terrified of him," she said.
Marcelin is currently booked as a "female" detainee with the New York City Department of Corrections, and is being housed at the Rose M. Singer Center — the only women's facility on Rikers Island.
Marcelin's next court date is scheduled for January 25.
---
Reduxx is a newly-launched independent source of pro-woman, pro-child safeguarding news and commentary. We're 100% reader-funded! Support our mission by joining our Patreon, or consider making a one-time donation.