In their push to destroy female sports, gender activists have dropped any veneer of concern about keeping sporting competitions fair and safe for female athletes.
On September 26, Biathlon Canada introduced a new policy on gender inclusion that allows men unrestricted access to the female category on the basis of self-declared gender identity. In other words, all a man has to do is say he is a woman, and he's allowed to cheat his way to a female athlete's spot on the podium.
According to the Biathlon Canada website, the policy was passed with the unanimous approval of the board of directors and is intended to outline "how the organization will create respectful and inclusive environments for participation that value the individual's gender identity and gender expression."
The policy itself is a five-page document that speaks at length about the importance of "inclusion" and highlights terms like "cisgender," "gender identity," and "gender expression," that have no place in a discussion about sports.
Where one might expect to see references to studies and data about sport performance, the document instead presents readers with a Gender Unicorn to use as a "framework of understanding the different categories of human identities."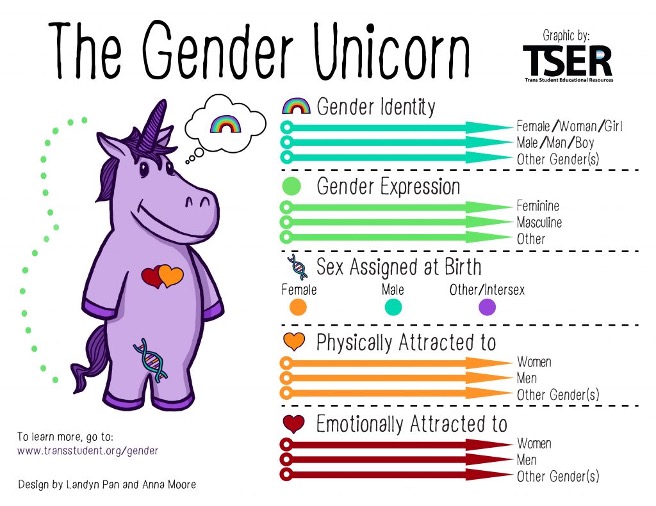 Let it sink in that a sporting organization is using a purple cartoon unicorn to explain a policy that strips the female category of all protections.
And this is exactly what the policy does… it amounts to nothing less than a free-for-all. A few important parts of the policy stand out, including that Biathlon Canada will allow for total self-declaration on 'gender identity' to determine category, and that competitors won't even be required to disclose what that identity might be.
In the Biathlon Canada Gender Inclusion Policy – Information Document & FAQ, the organization further asserts that, "for any competition that falls under Biathlon Canada's jurisdiction, participants will compete in the gender category that is the most gender affirming and/or safest for them."
No restrictions. No discussion of what it means to "live authentically" as a certain gender and why that has any bearing on sports performance. No discussion about issues of fairness and safety for women.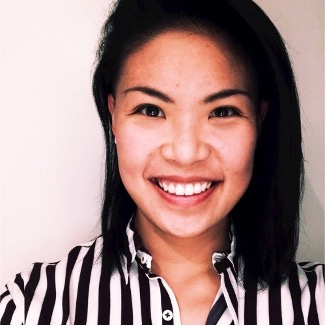 It's worth pointing out that these guidelines also put Biathlon Canada out of step with its parent organization, the International Biathlon Union (IBU), which does not currently have a similar policy.
The Biathlon Canada Gender Inclusion Policy was introduced to Biathlon Canada members at a webinar on September 28. The webinar included a presentation by Christine Hsu, a "diversity and inclusion specialist" who helped draft the policy.
On her LinkedIn, Hsu lists her pronouns as they/them and she/her and describes herself as "an immigrant settler who is nonbinary, genderfluid and a queer woman of colour."
She holds degrees in Education and Physical & Health Education — neither of which qualifies her to be drafting far-reaching recreational and competitive sports policies that obliterate sex categories.
Unsurprisingly, Hsu's presentation at the Gender Inclusion Webinar had nothing to say about sports performance and was silent on sex differences not just in biathlon but in any sport at all.
Instead, Hsu introduced her own SOGI (Sexual Orientation and Gender Identity) astronaut because, again, cartoon graphics are really what is needed when discussing sports.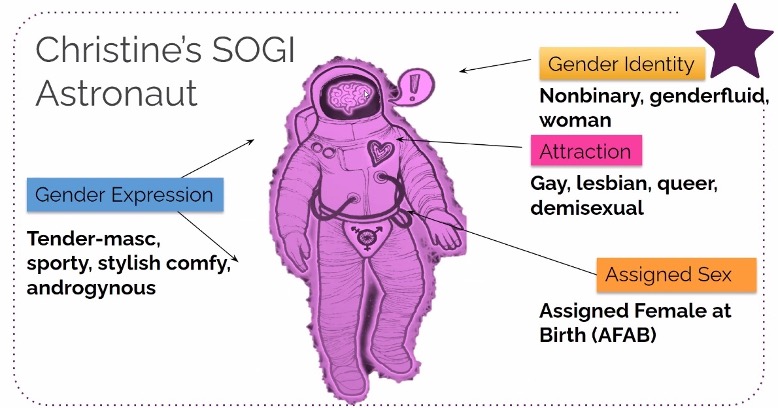 Hsu also spoke about how the "gender binary," as well as homophobia and transphobia, were brought over to Canada by European settlers. This, she claimed, clashed with Indigenous traditions and shaped how sports were established later on.
The idea that Indigenous cultures around the world didn't understand the differences between the two sexes nor have roles based around those differences is patently ridiculous. In fact, as psychology professor Paul Vasey points out, it is gender colonialism.
Vasey has spent nearly 20 years studying the non-Western cultures that diversity and inclusivity "experts" like Hsu defer to when arguing that sex doesn't exist and sex-segregated sports and spaces should be abolished.
"We all cull bits and pieces of information from the historical past and other cultures to construct an authoritative sense of who we are," Vasey writes in Newsweek, "but in doing so, we risk overlaying Western gender ideology onto non-Western ways of thinking."
This is exactly what Hsu is doing when she suggests that sports and other physical games and activities were not segregated by sex before settlers came to North America, which couldn't be further from the truth!
Published in Women's History Review in 2014, an excellent paper titled "First Nations Women, Games, and Sport in Pre- and Post-Colonial North America" explores the many sporting activities available to women and how they were tied to different stages of a woman's life. In fact, a game called double ball, which was played throughout the Eastern United States, was played exclusively by women. Lacrosse, on the other hand, was seen a game for men.
Competitions that involved both sexes, such as foot races, were sex segregated as well. "For the Navajos," the authors write, "races were used for girls' and boys' initiation rites, albeit in close association with the social roles of each one."
The authors of the paper also note that: "The history of women remains dominated by works on white women and women who belong to the middle class. Studies concerning American Indian women, in particular, are largely overshadowed." Hsu's solution seems to be to deny that North American Indigenous women had any sports of their own in the first place. Problem solved.
Of course, Hsu was not the only individual with a hand in the development of this policy. In fact, the Biathlon Canada Gender Inclusion Policy draws heavily from the Canadian Centre for Ethics in Sport (CCES) Working Group report "Creating Inclusive Environments for Trans Participants in Canadian Sport," which was published in 2016.
CCES is a not-for-profit entity created to end cheating in Canadian sports, and it's also responsible for domestic doping control. It has never been given the mandate to create gender inclusion policies and has no authority to dictate those policies in Canadian sports associations.
Nevertheless, in 2012, the CCES began to do just that, releasing a report titled "Sport in Transition: Making Sport in Canada More Responsible for Gender Inclusivity." According to CCES president CEO Paul Melia, "This report's most pivotal recommendation is to remove from athletes the burden of proving their gender, and shift the responsibility to sport institutions to make their sports more inclusive."
By 2020, Melia had progressed to arguing that sex is not binary, writing in a blog post on the CCES website that: "I think it is time for the sport community to reexamine its approach to sport categorization."
Today, the CCES is unabashed about viewing its role not just as an anti-doping organization but as a crusader for social justice. This is made clear in a blog post announcing Melia's retirement from his role as president as CEO.
"Through his leadership and governance skills, the CCES has enjoyed a period of extensive growth and has evolved from an organization responsible for administering the Canadian Anti-Doping Program to one which now promotes positive sport cultures through values-based sport," the statement read.
Melia may be stepping down, but the damage is done. In their book, Unsporting: How Trans Activism and Science Denial are Destroying Sport, co-authors Linda Blade and Barbara Kay detail how Melia used his prominent position in the Canadian sporting world to spread the gospel of gender identity throughout the country's sports organizations.
I approached Blade to ask for her thoughts on Biathlon Canada's new gender inclusion policy, considering her extensive expertise in the field of women's sport. Blade, who is the president of Athletics Alberta, used the word "livid" when describing how she felt about it.
"This new Biathlon Canada policy makes it possible for male-born competitors to self-identify into the female category at all developmental stages of the sport. Since male bodies have a competitive advantage, female biathletes will lose placings, prizes, and team opportunities irrespective of how they identify," Blade said. "This is ridiculous! It is literally discrimination against all female-born biathletes on the basis of sex!"
Indeed, Biathlon Canada seems to not have given the integrity of its own sport a second thought. Like in virtually every other sport, there is a large performance difference between men and women in biathlon. 
One interesting metric to look at and see this difference is in VO2max scores, which are a measure of the maximum rate of oxygen consumption the body can attain. VO2max matters to different degrees across various sports but is a particularly important metric for biathlon athletes. The cross-country skiing component demands one of the highest levels of power endurance in sport, and the athlete's conditioning also must be good enough for them to regain composure, steady their breath, and hit five 4.5 cm targets at a 50 m distance.
The highest measured VO2max for cross-country skiers is 96.0 for men and 76.6 for women. Men, despite having larger bodies that require more oxygen, have a 20% advantage on this metric alone.
A recently published study in the British Journal of Sports Medicine also found that men who had taken cross-sex hormones for an average of 14 years still retained a significantly higher rate of oxygen consumption when compared to women. 
Also like in most sports, women have historically had a difficult time achieving equal representation in biathlon. In the last few years, the IBU has taken many steps to correct this, offering equal competition prize money for the male and female categories and introducing mixed relays and single mixed relays formats. Gender identity policies like those implemented in Canada seek to make all this progress obsolete.
It is inconceivable that sports organizations are allowing ideological activists to dictate that men should have any sort of claim to the female category, let alone completely unfettered access based on mere self-identification. The calls to inclusion in Biathlon Canada's gender policy, and others like it, fall flat when its guidelines can and certainly will be used to exclude women from their own sports categories.
---
Reduxx is a newly-launched independent source of pro-woman, pro-child safeguarding news and commentary. We're 100% reader-funded! Support our mission by joining our Patreon, or consider making a one-time donation