A trans-identified male convicted of torturing and killing a 4 year-old boy has been quietly transferred to a women's prison in New York state. Christopher "Kryzie" King was serving a sentence of 22 years to life in Clinton Correctional Facility until April 20, when he was relocated to the Bedford Hills Correctional Facility for Women.
King pleaded guilty to abusing and murdering 4-year-old Myls Dobson in 2014. The child had been left in his care after his father, Okee Wade, was arrested.
Myls had been removed from the custody of his abusive mother, Ashlee Dobson, in 2012 and placed with his father despite Wade's long history of incarceration and sexual assault. The city's Administration for Child Services only monitored Myls for a year before closing his case in late 2012, just months before his father would be detained on charges of bank fraud.
Wade left Myls with King, though he would later claim he didn't know the transgender 'babysitter' at all.
Investigators told the press that during the three weeks Myls was in King's care, he regularly beat the toddler, even whipping him in the head with a belt buckle, burning him, and locking him outside on a balcony in his underwear in the freezing cold. King also starved Myls, reportedly giving him a last "Christmas meal" on December 26th. During the few weeks King tormented the toddler, officials say he lost 14 pounds.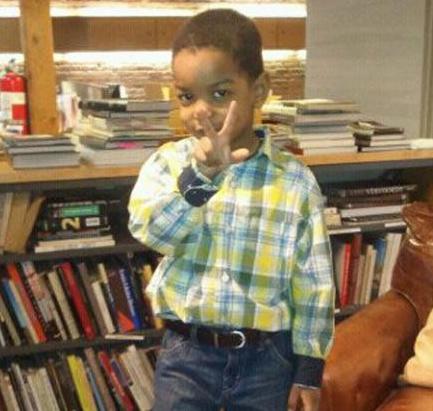 When an autopsy was carried out on Myls, the boy had not eaten for weeks. To the burns covering Myls' body, King admitted to torturing him with an oven rack, heating up the hot metal before removing it with an oven mitt and pressing it up against the boy's leg.
Assistant District Attorney Nicole Blumberg also said that King "bound and gagged" Myls as a form of punishment.
On the day the boy died, Myls had asked King to go to McDonald's. In response, King beat him and locked him in a bathroom. The boy suffered fatal injuries after falling off a counter and into an empty bathtub. King waited nearly 24 hours after the death before contacting emergency services.
After his arrest in 2014, King attempted to blame the abuse on the child's behavior. "He's becoming increasingly more difficult," King wrote.
"Before I beat him, I told him to pull his pants down and might have hit him in the privates and not known it," he continued. "I gagged him to keep him from screaming. I then put him in the bathroom with the lights out and locked him in the bathroom for 2-3 hours."
During his sentencing in 2016, King's lawyer, Bryan Konoski, speaking on his behalf, told the judge that he was concerned that the New York State Department of Correctional Services would force him to cut his hair.
"[His] hair is very important to [his] identity as a transgender individual," he said. "[He] asks that the corrections department refrain from cutting [his] hair." Myls Dobson's family expressed outrage at the request.
Media reports from the time of King's arrest and conviction describe him as a "woman" and use female pronouns to refer to him.
In January, New York Governor Kathy Hochul introduced a policy directive, tacked onto a $216 billion budget plan, that would allow inmates who self-declare a gender identity to choose where they are incarcerated.
King's transfer to the women's facility was done quietly, with no media coverage or public disclosure being provided. Within the New York State Department of Corrections system, King received a new identification number on April 20, which designated him as 'female' and distinguished him from his old 'male' identification number. He was also listed as 'released' from Clinton, but 'in custody' in Bedford Hill – a women's facility.

Policies which allow males to be transferred into women's prisons have resulted in some female inmates being forcibly locked up with violent killers and sex offenders who identify as transgender.
Speaking to Reduxx on King's transfer, Kara Dansky cites the Nelson Mandela Rules established by the United Nations which has long-established single-sex correctional facilities as a necessary human right.
Dansky is the President of the United States chapter of Women's Declaration International, a network of women across the globe advocating for the defense of women's sex-based rights.
"Incarcerated women, disproportionately women of color, are often survivors of domestic and/or sexual assault," Dansky says, "Forcing them to share locked prison cells with men is a form of abuse."
Dansky points to the recent pregnancies in a New Jersey women's prison, as well as the sexual assault which occurred in the women's section of Riker's Island after a trans-identified male inmates attacked a female detainee in the shower room.
"Some women are reporting that they have to sleep in shifts, keeping watch over the male prisoners in an effort to protect themselves and each other."
Dansky notes that 49 states plus the District of Columbia have some policies allowing the transfer of males into women's prisons on the basis of self-identification, moves she says have gone under the radar due to a lack of transparency.
"This has occurred without public knowledge, because government entities do not address it publicly and most media outlets refuse to report on it."
Currently, Bill S6677A, which would enact a "gender identity respect, dignity and safety act," has been introduced and is awaiting a vote in the Senate. It establishes that "incarcerated individuals shall be presumptively placed in a correctional facility with persons of the gender that most closely aligns with such person's self-attested gender identity."
While the bill has not yet been approved, New York City has had policies in place since 2018 that houses inmates based on their self-declared gender identity unless the outcome of a federally required safety assessment or the preferences of the inmate require alternative housing.
---
Reduxx is a newly-launched independent source of pro-woman, pro-child safeguarding news and commentary. We're 100% reader-funded! Support our mission by joining our Patreon, or consider making a one-time donation.