A London cabaret company which caters to infants is sparking backlash after disturbing video clips from their supposedly child-friendly events began circulating social media.
On March 1, British broadcaster Dominique Samuels shared Instagram footage from Caba Baba Rave, an entertainment company which specializes in providing "sensory events" for newborns and infants. The events usually take the form of a circus-like cabaret.
In the footage Samuels uploaded to Twitter, adult men are seen in extremely provocative dress performing for an audience of babies who are sat on the floor with their parents.
In one shot, a shirtless adult man wearing black shorts and leather stiletto boots is seen performing on aerial silk ribbons. In another, a man wearing a black thong and clear stripper heels is seen balancing upside-down on a chair, his groin bulge fully visible. A female performer is also shown dancing in the clip, but is far more clothed than her male counterparts.
For reference, this is one of the screen recordings I was sent from this organisation called Caba Baba Rave, that targets BABIES.

Absolutely abhorrent. pic.twitter.com/Fn8Tv9NJGx

— Dominique Samuels (@Dominiquetaegon) March 1, 2023
The footage has prompted mass outrage since it was uploaded, with Twitter users shocked at the display of flagrant sexuality in front of babies.
"What parent (if we can call them that) in their right mind would subject ANY child to this. What damage is being done to this young minds; parents are there to protect children from this type of behaviour. Why is this being allowed to continue," one user asked in response to the video.
"If these were ACTUAL females dressed like this and performing like this for KIDS, people would be absolutely outraged – and rightfully so. The performers being male makes it no less inappropriate," another user noted.
If these were ACTUAL females dressed like this and performing like this for KIDS, people would be absolutely outraged -and rightfully so. The performers being male makes it no less inappropriate

— Chica de Cali/Tsmallsmakeup 🟥 🌴🦋 (@Calichicahh) March 1, 2023
Caba Baba Rave launched in the beginning of 2022 after two women decided it was crucial for parents to have an event where they could experience a "big London night out" with cabaret, drinks, and dancing, but "one you can bring your baby to."
Their events are directed at parents with babies up to 2 years old, and have been self-described as "a little slice of afternoon delight that provides show-stopping cabaret interspersed with captivating baby sensory moments.. ending in a RAVE."
On March 11, Caba Baba Rave will be hosting a show at the Vault, a large venue in London that holds comedy, theatre, and other live performances. Other events held at the Vault also have a decidedly sexual theme, including "Naked Chats," where panelists "pose naked whilst they're in conversation about nakedness," and a drag puppet show titled "The Sodomite."
According to the company's LinkTree, the March 11 event is already sold out.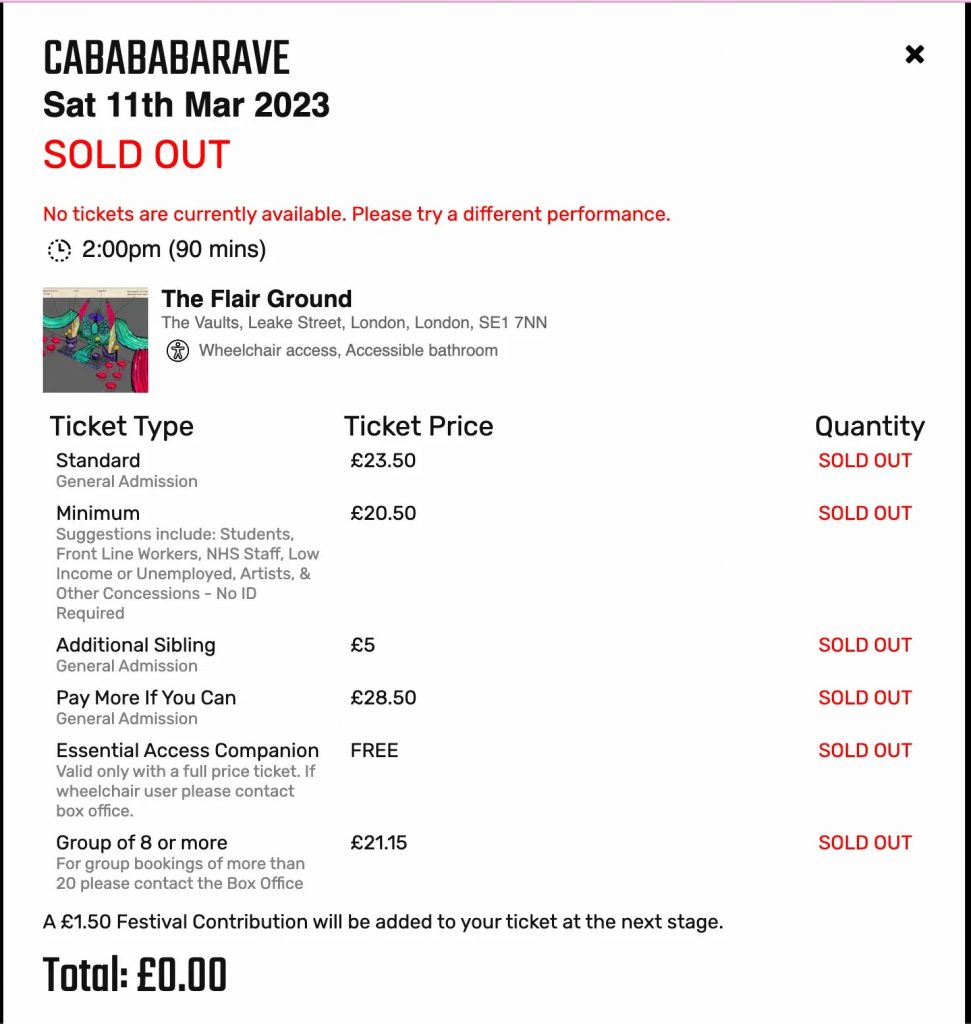 In addition to their shows, the Caba Baba Rave also advertises that they do private parties for children.
One such example featured on their social media was a birthday party for a 1-year-old. The clips from the infant's party featured drag performer Anna Phylactic, whose name appears to be a play on "anaphylaxis," a severe allergic reaction.
The company's launch event was held in January 2022 and featured male drag performer "Linda B. Hind" and the DJ "Mister Molly." Performer "Linda B. Hind" can be seen in a video nearly naked and spraying champagne everywhere in a recent performance. "Mister Molly," who advertised the "cabaret and sensory rave for babies" on his Instagram, is a "drag clown," like Jimbo the Drag Clown. Both are also affiliated with "House of Naked," whose shows are a "hedonistic utopia" where one can expect "cabaret that fuses drag icons, cabaret greats and circus legends into one queer spellbinding show."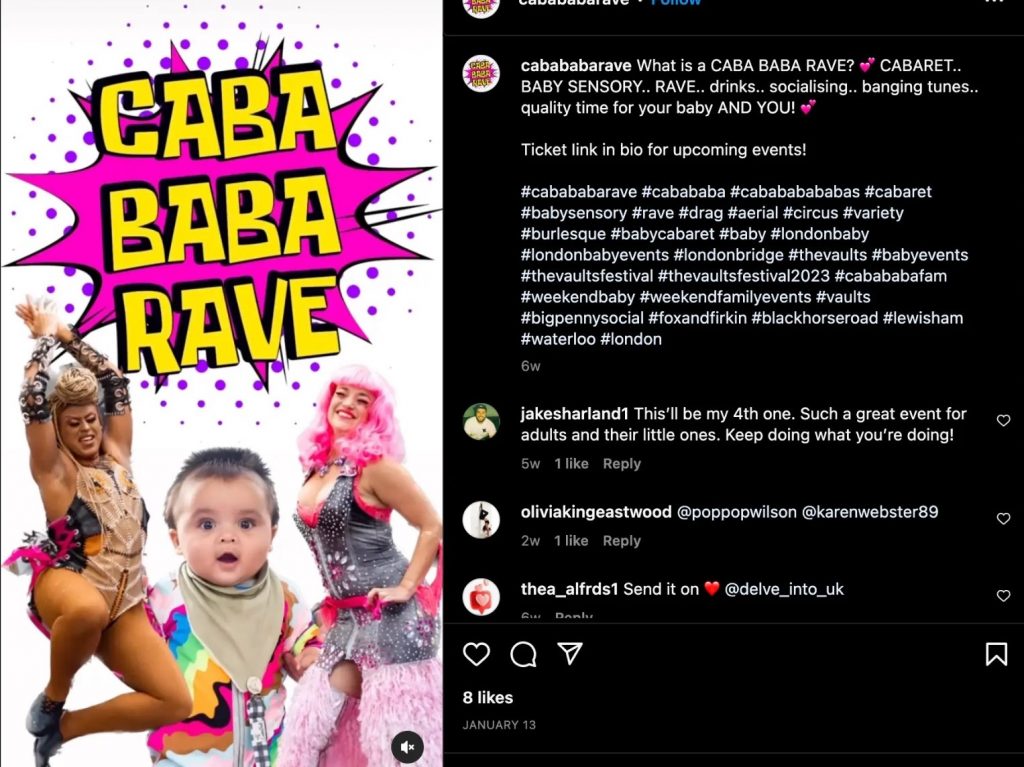 During the writing of this article, Caba Baba Rave set their social media to private, making their content unavailable to view on Instagram and Facebook. Just prior to doing so, Reduxx observed that many of their posts frequently utilized hashtags including "babysensory," "rave," "londonbaby," "drag," "babycabaret," and "londonbabyevents."
In February, Caba Baba Rave thanked those who attended their events for helping "to spread love, diversity and culture," and said that it's "important to celebrate the little moments with our babas – little moments of love!"
Drag performances targeted at children have become topics of widespread social concern in recent months, with some parents and child-safeguarding advocates pushing back against the practice. Many have noted that drag events often include sexually suggestive content, and that some drag queens have even been revealed to be child sex offenders.
In January, Reduxx revealed that the founder of Drag Queen Story Hour UK was fundraising for the funeral costs of a convicted child rapist. Darren Moore, who had been a prominent drag performer prior to his death, was mourned as an "exuberant human being" by Sab Samuel, a drag queen known for reading to children in schools and libraries.
Last year, Reduxx also reported on the case of an award-winning UK drag queen charged with the possession and production of indecent and prohibited images of children.
Andrew Duncan, who used the drag name Miss Rachel Rear, faced multiple counts related to 17 pieces of child sexual abuse materials he was found with. Some of the materials were media of real children, and others were illegal fantasy depictions of children engaged in obscene, pornographic acts.
In the United States, multiple incidents have occurred over the past year which included young children being exposed to sexually provocative drag shows.
On June 2, a disturbing TikTok began circulating on Twitter showing a girl aged 3 to 5 being led by a provocatively dressed transgender drag queen. The drag queen only had nipple pasties covering his breast implants, and money stuffed into the skimpy g-string of his outfit.
The TikTok went so viral that Florida Gov. Ron DeSantis became aware of it and filed a complaint against R House Wynwood, the Miami LBGTQ club where the incident occurred.
DeSantis launched additional investigations into "family-friendly" drag shows later in the year, and even reportedly weighed the idea of having child protective services look into parents who exposed their children to sexually provocative drag shows.
On February 3, DeSantis announced that a theatre in Orlando which allowed children to watch a drag performance would be stripped of its liquor license.
Other states have taken similarly hard-line stances on drag shows aimed at children. This week, Tennessee Gov. Bill Lee stated he would sign into law a bill prohibiting "adult cabaret performances" in public or in front of children, with such cabaret performers including "topless dancers, go-go dancers, exotic dancers, strippers, male or female impersonators."
---
Reduxx is your source of pro-woman, pro-child safeguarding news and commentary. We're 100% independent! Support our mission by joining our Patreon, or consider making a one-time donation.