Officials from the Miami-Dade County department of Corrections and Rehabilitation are refuting viral claims that a popular trans-identified YouTuber was held in a "men's unit."
Nikita Dragun, born Nguyen, was arrested on November 7 after causing a scene at The Goodtime Hotel in Miami Beach. Police officers were allegedly called to the hotel just after 6 p.m.
When they arrived, hotel security told police officers that Dragun had been "causing a disturbance and being extremely disorderly," including "walking around the pool area unclothed." When hotel staff confronted him about his behavior, Dragun reportedly threw a glass of water at a hotel staffer.
When police officers arrived at Dragun's hotel room, he first attempted to barricade himself inside the room. He opened the door only to throw water on police before slamming the door once again. He was arrested after the incident and taken to Turner Guilford Knight Correctional Center.
The following day, Dragun appeared in bond court via video link. Dragun faces a felony charge of battery on a law enforcement officer, a misdemeanor disorderly conduct charge, and a municipal ordinance violation of battery.
During the hearing, Dragun asked Judge Mindy Glazer whether he had to remain in a "men's unit" in the jail.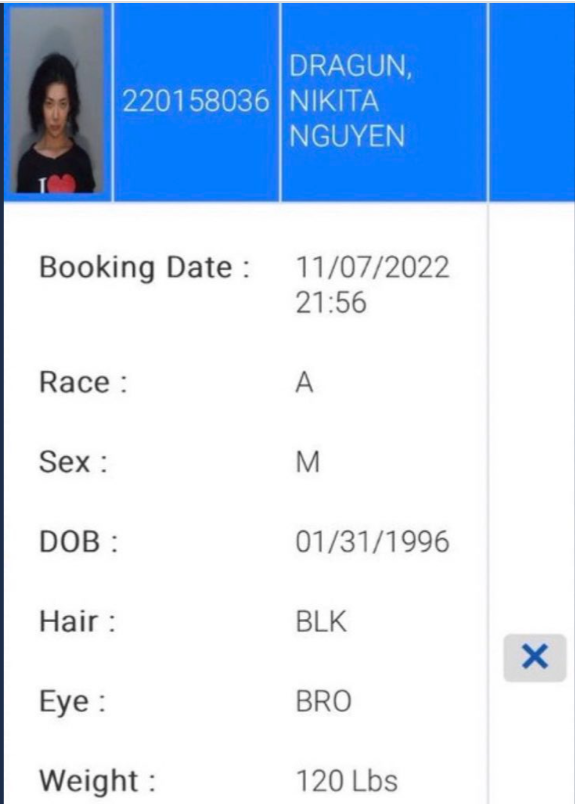 "I don't make the rules up there," Glazer replied. Video of the exchange was posted on social media and quickly went viral as people expressed concerns for Dragun's safety, and anger that his sex was recorded as male on the booking.
Dragun's bond was set at $2,000 and he has since been released. His publicist, Jack Ketsoyan, released a statement following his release.
"The situation with Nikita, who is legally female, being placed in a men's unit of a Florida jail is extremely disturbing and dangerous," Ketsoyan wrote.
"This decision made by the Miami-Dade County Corrections Department directly violates their protocol, which mandates that transgender inmates are classified and housed based on safety needs and gender identity. Nikita has been released and is now safe. Thank you for respecting her privacy during this time."
However, Miami-Dade County Corrections has come out and refuted the viral claims, asserting that Dragun "never made it beyond the booking process" prior to release.
"She was never placed in a men's unit," Miami-Dade Corrections spokesperson Juan Diasgranados said in a statement, using feminine pronouns to refer to Dragun. "All inmates undergoing our intake process remain in an open seating (open booking) area, in the presence of correctional staff."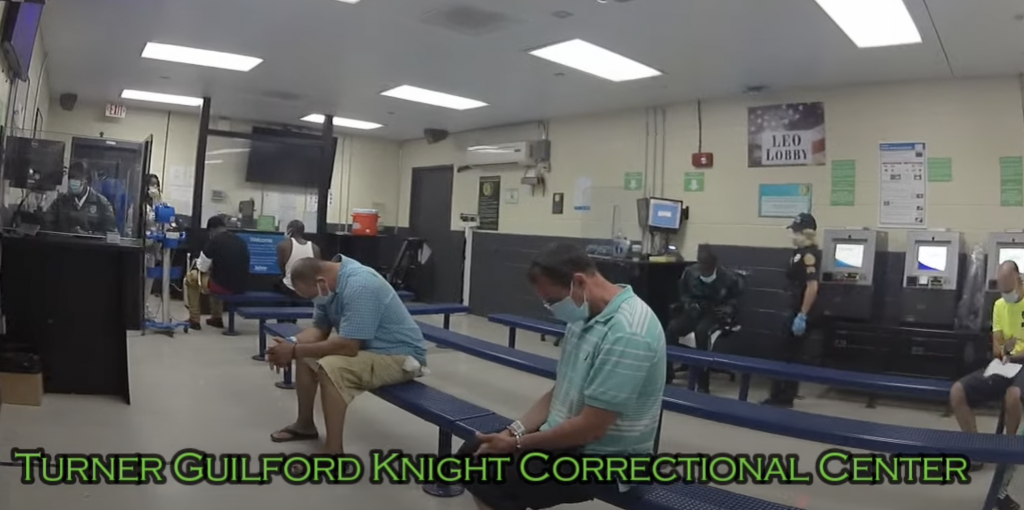 The open booking area Diasgranados is referring to is likely the Law Enforcement Officer (LEO) Lobby, where most inmate triage occurs at the Turner-Guilford Knight Correctional Center. The Lobby is an open area where numerous correctional staff are present and working in different capacities through processing inmates. The arresting officers typically remain with the inmates until they are booked.
In his statement, Diasgranados also said that Dragun was placed in a holding cell by himself due to his "high-profile status" before being released, and that he was escorted by an "LGBTQ officer" throughout his time there.
"Miami-Dade Corrections and Rehabilitation Department (MDCR) is committed to protecting the rights of the transgender community and of all LGBTQ people," the statement continued.
"MDCR has procedures in place for the appropriate intake, housing, and medical needs of transgender inmates, and we are committed to ensuring that all inmates in our custody, including transgender persons, are treated appropriately throughout our intake, classification and placement process."
Despite activist claims to the contrary, the Turner-Guilford Knight Correctional Center is a prison which houses both male and female inmates moving through various stages of the custody process. Local crime news out of Miami-Dade county shows there are female inmates currently incarcerated at the facility.
The news of Dragun's custody went viral on social media this week after a number of accounts sympathetically repeated the claims Dragun had been incarcerated in a "men's unit," labeling it a "violation" of human rights.
"Nikita Dragun is one of the most well known trans women in the world; if this can happen to her, it can happen to any of us. Trans women are women and belong in women's spaces. This is absolutely horrific and should be considered cruel and unusual punishment," trans-identified male YouTuber Samantha Lux wrote.
One tweet condemning Dragun's placement wracked up over 130,000 'likes' on Twitter in just 48 hours.
While the statement from Miami-Dade County clarified that Dragun was not held in a "men's unit," prior to the release of that information, many women's rights advocates on Twitter noted that Dragun is a biological male, and so his placement in a men's unit would not have been out-of-line in the event it had occurred.
A vicious debate broke out between trans activists and feminist on social media over the issue, with some transgender Twitter users declaring that "if you support trans women jailed with other men you support rape, full stop."
While many correctional departments do not collect or release information on inmate gender identity, those which do consistently show that trans-identified male inmates are significantly more likely to be incarcerated for sexual offenses than their non-transgender counterparts.
According to Keep Prisons Single Sex, an advocacy group for incarcerated women, almost 50% of male federal inmates who identify as transgender are in custody for sex offenses. This is compared to just 11% of the non-trans male inmate population.
In California, just over one-third of male inmates seeking transfer to women's prisons on the basis of transgender identity are registered sex offenders.
Over the past year, there has been a notable wave of disturbing cases related to trans-identified male inmates with histories of extreme violence towards women and children being transferred to women's correctional facilities across the United States.
In April, Reduxx reported that a male inmate serving a 50-year sentence for the brutal murder of an immigrant woman had been moved to New Jersey's only women's correctional facility, Edna Mahan, after declaring a transgender identity.
Perry Cerf, 39, was arrested for the rape and murder of 47-year-old Ecuadorian immigrant Flor Andrade in 2002. Cerf, who now goes by the name Michelle Hel-loki Angelina, boasted about beating Andrade to death, kicking her until her "head was on backwards." He also stated he had drank the woman's blood.
Cerf is not an isolated case in New Jersey. There are multiple violent trans-identified male inmates currently housed at Edna Mahan. Female inmates in the facility, especially those with a history of being victims of sexual abuse, have come forward to express fear and anxiety over being incarcerated with males.
In Washington, there are at least two trans-identified males who committed acts of femicide serving their sentences in the state's female correctional facility.
Donna Perry, a serial killer who murdered three prostituted women prior to identifying as transgender was recently transferred to the Washington Women's Correctional Center, while Nonnie Lotusflower is serving a 10-year sentence at the same institution for the brutal rape and murder of a 17-year-old girl.
Despite trans activist claims to the contrary, the presence of trans-identified males in women's correctional facilities has resulted in multiple cases of sexual violence against incarcerated women across the United States.
In April, a trans-identified male inmate on Rikers Island was convicted of raping a female prisoner while in the women's section of the New York prison. One month later, a source at the Central California Women's Facility exclusively reported to Reduxx that a transgender transfer had allegedly sexually assaulted an intoxicated female inmate before threatening other women with rape.
Four female inmates in California are in the process of suing the state's correctional body over abuses they suffered at the hands of trans-identified male transfers. One plaintiff in the suit, Krystal Gonzales, reported she had been sexually assaulted by a trans-identified male who had been placed in her cell.
---
Reduxx is a newly-launched independent source of pro-woman, pro-child safeguarding news and commentary. We're 100% reader-funded! Support our mission by joining our Patreon, or consider making a one-time donation.