A British composer and instrument company co-founder appears to have been pushed out of his own company following a tweet in support of Harry Potter author J.K. Rowling and Father Ted writer Graham Linehan.
On September 5, Spitfire Audio co-founder Christian Henson tweeted: "As a parent I can no longer keep my mouth shut about this. I'm in full support of glinner & @jk_rowling. Please look into this. If you have young children it's in the post if you have autistic children it's probably already on your doormat."
Henson worked as a composer on films such as Chasing Liberty, Chalet Girl and It's a Boy Girl Thing. His scores also appeared on television shows Scream Team and Fresh Meat. But in 2007, he co-founded Spitfire Audio, a company specializing in audio and instrument gear.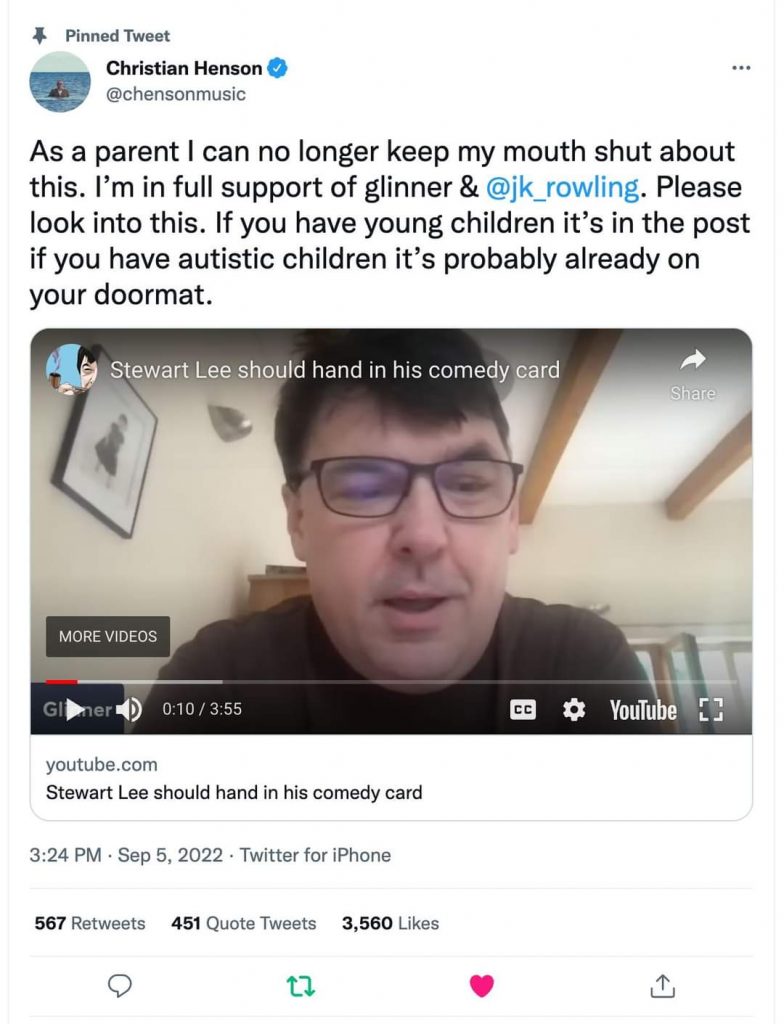 In his tweet, Henson was referencing the recent spike in children undergoing medical transition in accordance with a declared "gender identity", a phenomenon that has become particularly widespread among children with autism. One 2019 study involving 292,572 children found that those with an autism spectrum disorder were over four times as likely to be diagnosed with a condition indicating "gender dysphoria".
Additionally, according to child safeguarding organization Transgender Trend, 48% of patients referred to the Tavistock & Portman Gender Identity Service (GIDS) have a diagnosis or show traits of being on the autism spectrum. According to the organization, referrals to the Tavistock GIDS clinic increased by 3,263% over the ten years from 2009 to 2019, the largest demographic being young girls self-identifying as boys.
Henson's tweet also included support for prolific author J.K. Rowling and Father Ted writer Graham Linehan, both of whom have received ample backlash for speaking up about the impact of gender ideology on women and children.
Henson's post quickly circulated amongst the gender critical community on Twitter, where he was met with an outpouring of support. But it wasn't long after the tweet went viral that Henson's Twitter account was deactivated.
Today, Spitfire Audio's CEO, Will Evans, released a statement on Twitter on behalf of the company asserting that Henson's views had "caused hurt amongst our community" and that he would would be taking a "step back" from Spitfire Audio.
But the statement was not well-received by many, with the gender critical community coming out in support of Christian Henson and his right to voice his views.
Following the statement's posting, #IStandWithChristianHenson began trending on Twitter as users rallied around the composer.
Author Milli Hill tweeted, "Raising concerns about the protection and welfare of children is 'hurtful' and requires time out on the naughty step. This won't age well. Yet another dissenter publicly shamed for wrongthink. #IStandWithChristianHenson."
Do you often bully people for the lawful expression of their beliefs? Because that's very much what this looks like.

— Duncan (@DuncanHenry78) September 6, 2022
J.K. Rowling herself even made a tweet calling out Spitfire, noting that any professional consequences lodged against Henson as a result of his views would be illegal under U.K. law, as per the Allison Bailey and Maya Forstater judgements.
In the United Kingdom, "gender critical" beliefs are protected under the Equality Act 2010. The decision was cemented as a direct result of an employment tribunal claim forwarded by feminist Maya Forstater. The tribunal found that Forstater was directly discriminated against and victimized by the Center for Global Development (CGD) after they refused to renew her employment contract due to her beliefs on the differences between sex and gender.
Several weeks later, another employment tribunal was won by barrister Alison Bailey against her employer, Garden Court Chambers. The tribunal similarly found the Chambers guilty of discriminating against Bailey on the basis of her "gender critical beliefs."
Following the backlash, Spitfire Audio doubled down on their initial stance, releasing another thread of tweets reiterating their statement.
"We feel it is important to reiterate that we stand resolutely and absolutely behind advocating for inclusivity and diversity in music – this extends to the LGBTQ+ community, and in the world in general."
Though the replies to the thread were turned off, many were quick to quote tweet the company to disagree with their position.
Though Henson is being shamed for his views by his own company, his sentiments on the impact of gender ideology on children are shared by a growing number of experts.
It was recently announced that the Tavistock Gender Identity Service, the United Kingdom's only pediatric gender clinic, would be closing in 2023. The announcement followed an independent review which found the clinic to be failing children.
Dr. Hilary Cass, who carried out the review, suspected that there was not enough evidence to support the use of "puberty blockers" as a treatment for gender dysphoria in children. She even suggested that there was research to suggest that puberty blockers may negatively affect brain development.
"Brain maturation may be temporarily or permanently disrupted by puberty blockers, which could have significant impact on the ability to make complex risk-laden decisions, as well as possible longer-term neuropsychological consequences," Dr. Hilary Cass stated in her report.
But the Tavistock's closure isn't the only indication gender ideology's impact on children is being recognized.
The American Food and Drug Administration (FDA) recently warned "puberty blockers" could cause swelling of the brain, headache, blurred or loss of vision, tinnitus, dizziness, and nausea. And multiple American states, and European nations, have now warned their health professionals to exercise extreme caution when treating "gender dysphoric" youth.
In February, the National Academy of Medicine in France issued a notice to the members of France's medical community stating that a "sharp increase in demand" had been observed across the world with children and adolescents seeking gender transition services.
On the dangers of hasty medical intervention, the Academy referenced the May 2021 decision of the Karolinska Hospital in Sweden to halt the issuance of puberty blockers to minors under the age of 16, citing a lack of scientific support and research into their potential health implications.
Speaking to Reduxx, Graham Linehan says that there has been a concerted effort in the U.K. to largely ignore critical information emerging about the practice of transitioning children.
"The entire media class in the United Kingdom is involved in a soft conspiracy to pretend that things like the Tavistock scandal and cancel culture don't exist," Linehan says. "The truth is, everyone knows it exists."
Linehan was permanently suspended from Twitter in 2020 after repeatedly expressing concerns about the medical transitioning of children, as well as criticizing gender ideology and its impacts on women and children. Earlier this year, a musical rendition of Linehan's popular television classic, Father Ted, was cancelled by producers following pressure from trans activists.
Linehan has since been branded as "dangerous" by his opponents, and some have even suggested his "rhetoric" could result in the murder of transgender people.
"J.K. Rowling and I are the victims of village gossip on a global scale," Linehan says, "Everything that has been said about us is a misrepresentation by bad-faith actors. No one can ever produce any evidence of our supposed 'crimes.' Now, Christian Henson has fallen afoul of the same forces determined to cover up one of the biggest child safeguarding and medical scandals of all time."
---
Reduxx is a newly-launched independent source of pro-woman, pro-child safeguarding news and commentary. We're 100% reader-funded! Support our mission by joining our Patreon, or consider making a one-time donation.