A trans-identified male spared a prison sentence after threatening to bludgeon a man with a claw hammer has been harassing women's rights activists through multiple accounts on Twitter. Layla Le Fey, who has previously gone under two other identities, expressed an urge to violently kill prominent women's rights campaigners for opposing gender ideology.
On Wednesday, using the now-suspended Twitter handle @laylalefey1, Le Fey stated he was "interested in setting fire" to Keen's home with her inside. But this was not the first time Le Fey had targeted her for abuse.
This man has a criminal record @sussex_police, and he is now threatening to kiII and commit arson. What are you going to do about it? https://t.co/d4auZrusly https://t.co/m5vwbEMQeL pic.twitter.com/m72sqN0AaE

— Standing For Women #AdultHumanFemale (@StandingforXX) June 7, 2023
In March of 2023, Le Fey also communicated his desire to "kick the s**t out of" her, rip her eyes out, and break her spine in a bizarre bid to "prove [her] point" that "some trans people are extremely violent." That same day, Le Fey stated that he would enjoy either seeing Keen brutally killed by a "misogynist psychopath" or acting out the murder himself.
In addition to threatening Keen, Le Fey also replied to a Helen Joyce, journalist and author of the book Trans: When Ideology Meets Reality, where he expressed a similar violent fantasy as those directed at Keen.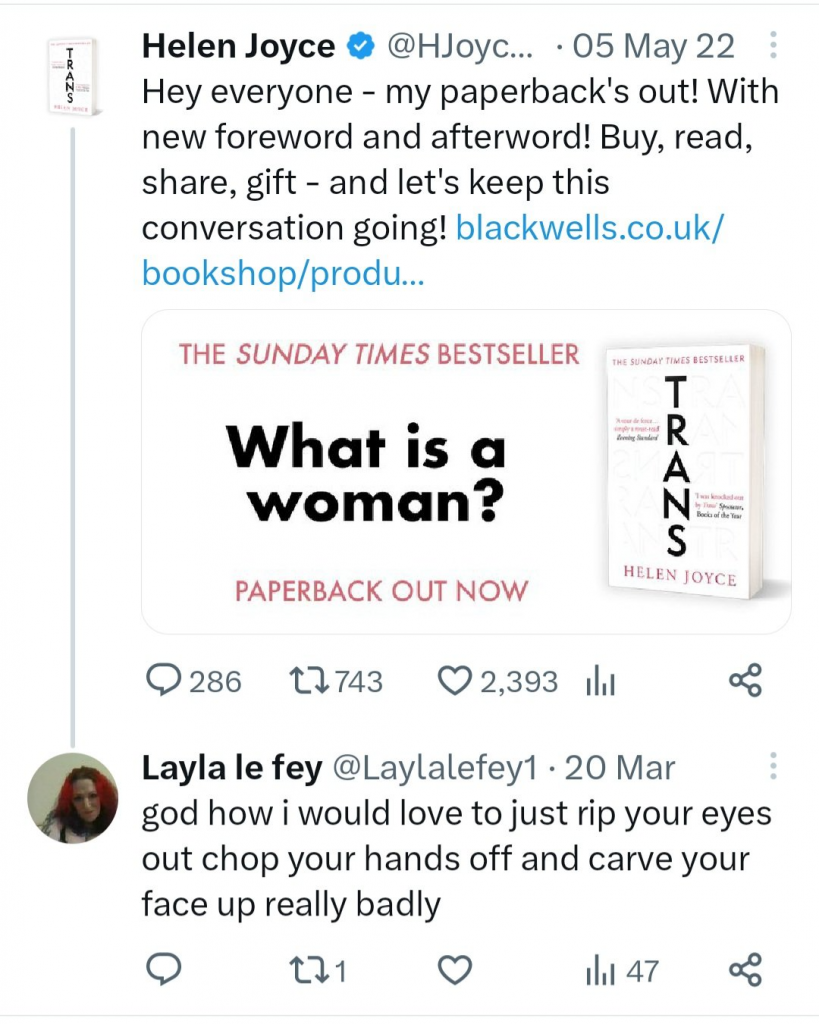 "God how I would love to just rip your eyes out, chop your hands off, and carve your face up really badly," Le Fey said to Joyce on March 20.
Users on Twitter quickly revealed that Le Fey was a known criminal with a history violence, prompting concerns for the safety of the women he targeted.
In 2020, Le Fey was convicted of common assault and possession of an offensive weapon after attempting to steal wine from a Budgens in Brighton. During the incident, which took place on November 6th, 2019, Le Fey brandished a claw hammer and used it to threaten the cashier. Le Fey was apprehended by police after he swiped another bottle of wine and attempted to flee.
During court proceedings, presiding Judge Stephen Mooney initially called Le Fey's crime "inexcusable," and sentenced him to serve a suspended six-month sentence in prison, along with a 30-session rehabilitative therapy order. But within the hour, Judge Mooney overturned his own decision, citing a lack of evidence of Le Fey's gender reassignment.
Because the court could not establish whether Le Fey had undergone genital surgery, it was argued that a prison term presented an inhumane situation which could not be easily resolved.
As Le Fey lacked a legal document known as a Gender Recognition Certificate (GRC), Le Fey's attorney, Rebecca Upton, remarked: "The only way Le Fey could prove her new gender would be an 'undignified examination,' one which court staff were not prepared to do."
Without a GRC or physical examination, Le Fey, considered a vulnerable minority under the law, would have then been forced to serve his sentence at the Lewes Prison, a correctional facility for men. Judge Mooney refused to do so, and commented that he could not allow Le Fey to serve his sentence in the male estate.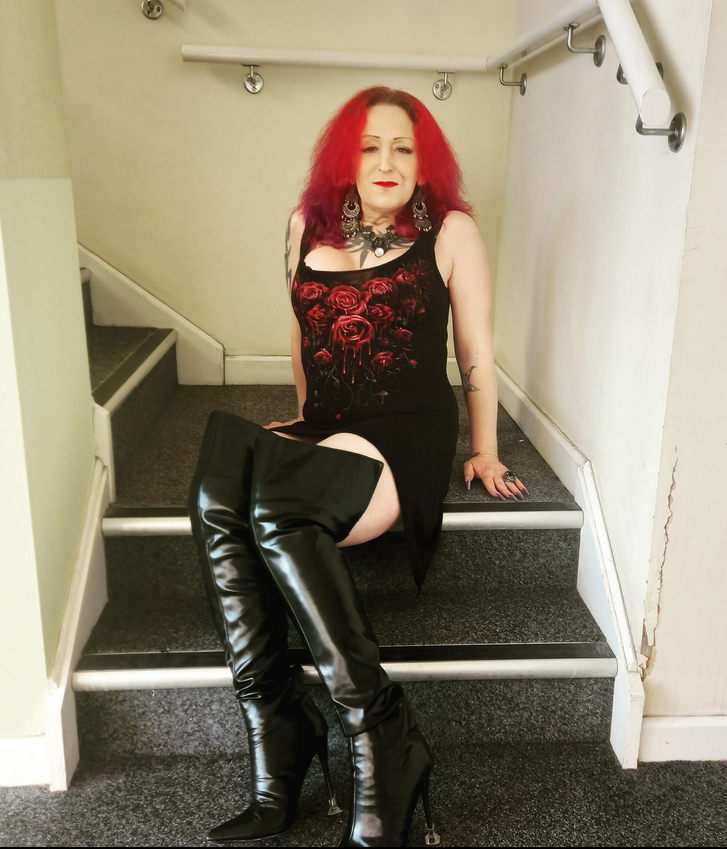 "We live in a society which acknowledges and embraces diversity and allows and encourages people to live the life they want to. Sometimes society does not make the necessary or appropriate adjustments in all ways it can to reflect the adjustments of society as a whole," Judge Mooney said.
"Having reflected again upon the impact an immediate custodial sentence would have, the difficulties there are and the intractable problems the prison service would face, I have reconsidered whether imprisonment must be immediate," he added. "In light of this information I have come to the conclusion that in your particular case it allows me to hope for some form of rehabilitation."
In her defense of Le Fey, Upton portrayed her client as a victim of substance abuse, pointing out his long history of alcohol and drug dependency, and said that Le Fey was in the "grip of addiction again now," having relapsed at the time of the attempted theft.
According to the Daily Mail, Le Fey has a lengthy criminal record, having been convicted for more than 50 offenses, including several for wielding weapons in public.
On Twitter, one user with the handle @safeguardwomen alerted Sussex Police to the disturbing tweets Le Fey had directed towards Keen and Joyce and inquired if there would be an investigation.
In response, the police force requested the completion of an online report so that officers could receive "more information" in order to "look into" the matter. The statement did not garner much support, with some commenters emphasizing that police ought to already be aware of Le Fey's background.
Hello, we'd like more information so we can look into this. Could you please report this to us online here: https://t.co/pui86Ehasq. Online reports are triaged in the same way as 101 calls but keeps our phones lines free for those who can only contact us by phone. Thanks

— Sussex Police (@sussex_police) June 7, 2023
In recent years, several violent men who identify as transgender and have a criminal record have utilized social media to mock and frighten women they label as "TERFs," a derogatory term for women who oppose gender identity politics.
In one instance, women associated with Reduxx were subjected to a series of threats, sexual harassment, and impersonation from a man who was imprisoned for brutally raping and murdering a 13 year-old girl.
Synthia China Blast, born Luis Morales, was sentenced in 1996 for the horrific rape and murder of 13-year-old Ebony Nicole Williams. Blast, along with his boyfriend Carlos Franco, were sentenced to 25 years for the crime, one that had both sexist and racist motivations.
While incarcerated, Blast struck up a relationship with a convicted serial killer who had sought to murder one person of each zodiac sign as an homage to San Francisco's infamous Zodiac Killer. "Only if I was a real woman I could bring about little future serial killers to terrorize NYC like my husband did. How [New Yorkers] would of loathed the Zodiac Children," Blast told the New York Daily News.
Blast was regularly profiled in media throughout his incarceration, and became a subject championed by prison abolitionists who decried his extended stay in solitary confinement. During his incarceration, Blast became a regular contributor to The Sylvia Rivera Law Project (SRLP), an organization which provides assistance to inmates on how to legally change their identification documents.
Last October, Reduxx reported that Blast was discharged from parole supervision on July 30, 2022, quietly marking the completion of his sentence for the murder of Ebony Nicole Williams.
One week after publication, Blast began to threaten staff writers and reserved a special animosity for Editor in Chief Anna Slatz, whom he impersonated and sexually harassed repeatedly over a period of weeks. During this time, Blast operated multiple Twitter accounts and posted graphic fantasies of brutalizing "TERFs." He also outed his identity by sharing photos of himself and disclosing personal information.
"For the record, my name is Synthia China Blast and I was wrongfully convicted of murder," Blast tweeted on November 10 from one of his alternate Twitter profiles which had briefly used the handle "TERFHunter." The tweet has since been deleted.
At the end of November, internationally-renowned author J. K. Rowling commented on the situation, sharing an image of Blast reveling in a fantasy of her death.
EDITOR'S NOTE 6/10/23: Sussex Police arrested Le Fey, and a spokesman for Sussex Police told the press: "Police are investigating reports of threats made towards an individual on social media." Both law enforcement and media coverage of the arrest are referring to Le Fey as a "woman."
---
Reduxx is your source of pro-woman, pro-child safeguarding news and commentary. We're 100% independent! Support our mission by joining our Patreon, or consider making a one-time donation.