A man serving a 25-year sentence for the brutal murder of a 60-year-old woman was transferred to a female correctional facility after beginning to identify as transgender.
Dejshontaye Goddeszholliwould, who is also known as Dejshontaye Would and Daryl Graves, was convicted in March 2019 of the aggravated manslaughter of his aunt, Patricia Graves.
At the time of his conviction, local press reported that Would was high on PCP and cocaine when he fatally stabbed his aunt 47 times and beat her over the head with a frying pan in July 2018.
Would, who was 23 at the time, initially tried to claim he acted in self-defense when the older woman "attacked" him, but investigators painted a far more calculating picture of would — nothing that the man had placed a plastic bag over his aunt's head to "prevent blood from spilling onto the floor."
Public defender Joseph Moran told the court that his client had a history of mental illness and suicide attempts. This combination of mental health issues and drug addiction, claimed Moran, was what "led to this destructive act."
During court proceedings, a statement from the victim's family was read wherein they pleaded with Would for an explanation for his violence, indicating there was no clear motive for his actions.
"The question we want answered is why. Why, Daryl, did you murder our sister? Our sister took you in, raised, loved and cared for you as if she had herself given birth to you and you repaid her by murdering her in cold blood," the family's impact statement read.
Though Would's attorney Moran also read a statement from his client containing an apology to the family and admitting his guilt, local news noted that he "showed no emotion throughout the proceedings."
While Would had no known history of issues related to his gender or sexuality, sometime after his incarceration in 2019 he began identifying as a woman.
As of July 2022, Would now appears listed as a 'female' inmate currently housed at the controversy-plagued Edna Mahan Correctional Facility for Women (EMCF) in New Jersey.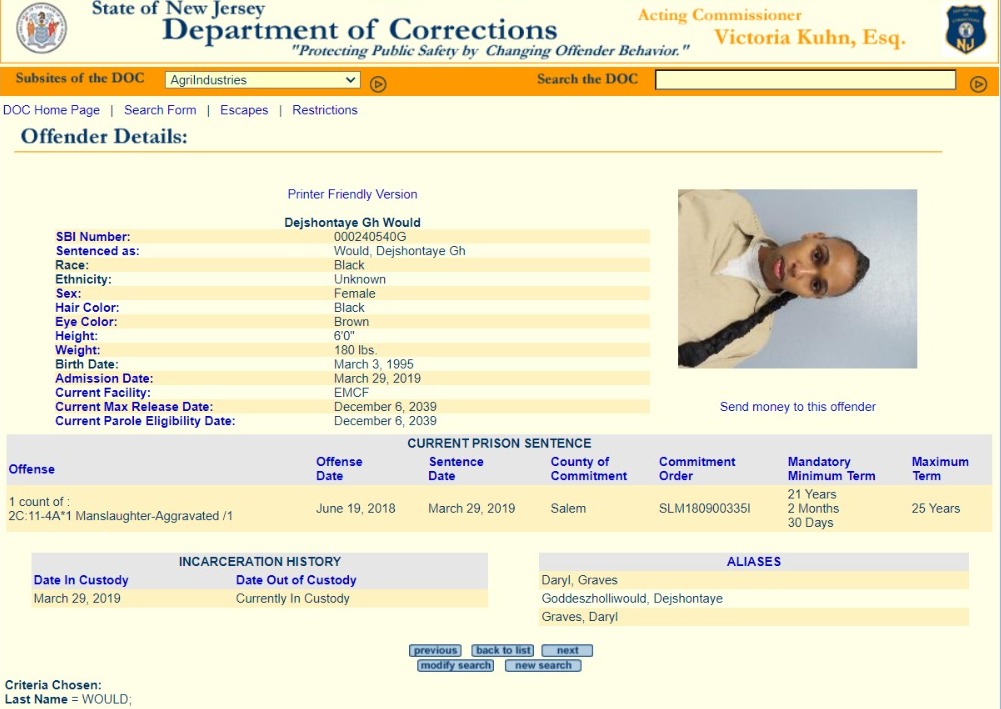 Speaking to Reduxx, two women currently incarcerated at EMCF revealed that Would was one of five trans-identified male inmates placed in a form of segregation after widespread backlash towards EMCF following the announcement of two pregnancies within the institution.
In an interview with Reduxx, incarcerated woman Kokila Hiatt reported that the administrative decision to separate the five males from the female inmates was motivated by the intention of protecting the women. She states the men had either been sexually harassing female inmates, or actively seeking our sexual relationships which could result in more pregnancies.
The men were placed in what was named the Vulnerable Persons Unit (VPU) on June 23.
"It appears that, to protect us from the male inmates who seek sexual relationships with us, it [was] decided that [these men] will be called vulnerable and placed together in one unit," Hiatt explained.
Another inmate at EMCF, Michelle Tierney, corroborated Hiatt's understanding of why some of the male inmates were relocated, speculating the move was a result of mounting public backlash after the announcement of the pregnancies.
The trans-identified male inmate responsible for the pregnancies, Demi Minor, was also among of the five inmates moved. Minor has since been transferred out of EMCF and to the Garden State Youth Correctional Facility, a prison for young adults ages 18 to 30, according to New Jersey Department of Corrections spokesman Dan Sperrazza.
This is just the latest in a long list of controversies to emerge out of trouble-plagued EMCF.
In May, an inmate at the facility told Reduxx that female inmates had been subjected to a "nightmare" since the mass arrival of trans-identified male inmates.
Miseka Diggs explained that the female inmates in EMCF were "scared to death" of the men, and stated that a majority of women incarcerated at the prison had past experiences with sexual trauma, and the presence of men at the facility was causing them severe distress.
Shortly after Diggs spoke out, two more female inmates approached Reduxx to reveal similar concerns, one of whom had been sexually harassed by a violent male inmate who had been transferred to the facility.
The mass transfer of trans-identified male inmates was the result of a settlement reached between the ACLU and the New Jersey Department of Corrections last year.
The settlement agreement stipulated that transgender inmates must be housed on the basis of their self-declared gender identity. At the time, the ACLU had been fighting on behalf of a trans-identified male inmate who had been housed in a men's institution and allegedly faced abuse and discrimination.
After the settlement was won, the New Jersey ACLU praised the decision, with staff attorney Tess Bordan saying: "The settlement of this lawsuit puts in place systemic, far-reaching policy changes to recognize and respect the gender identity of people in prison – with housing based on gender identity, use of appropriate pronouns, access to gender-affirming property, and much more."
---
Reduxx is a newly-launched independent source of pro-woman, pro-child safeguarding news and commentary. We're 100% reader-funded! Support our mission by joining our Patreon, or consider making a one-time donation.